John Winthrop
1588 - 1649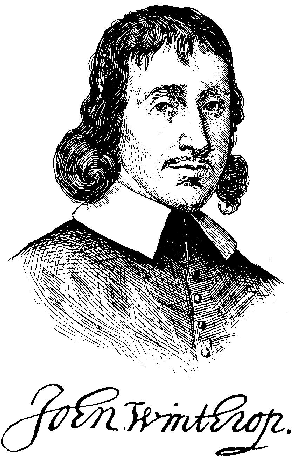 Edited Appleton's American Biography Image Copyright© 2001 by VirtualologyTM


WINTHROP, John, governor of Massachusetts, born in Edwardston, near Groton, Suffolk, England, 22 Jan., 1588; died in Boston, Mass., 26 March, 1649. The manor of Groton had been purchased in 1544 by his grandfather, Adam Winthrop, a rich clothier of Suffolk, who had also a city home in St. Michael's. Cornhill, and who was for several years master of the famous Cloth-workers' company of London. A portrait of him, ascribed to Hans Holbein, indicates a man of culture, decision, and great strength of character. One of his daughters became the wife of Sir Thomas Mildmay, nephew of the founder of Emmanuel college; and another was the mother of Dr. William Alabaster, who is styled, in "Fuller's Worthies," "a most rare poet as any our age or nation has produced witnessed his Tragedy of Roxana."
Of this Adam Winthrop the third son, also named Adam, was a lawyer by profession, a graduate of Magdalen college, Cambridge, and for many years the auditor of Trinity and St. John's colleges. His first wife was a sister of Dr. John Still, bishop of Bath and Wells, but she died early without offspring. His second wife was Anne Browne, of Edwardston. and of this marriage John Winthrop, the subject of this notice, was the only son. His parents lived until within a few years of his coming to this country, his mother dying only one year before he embarked. Of the school or schools, which he attended as a boy, there is no record, but we find him admitted to Trinity college, Cambridge, on 18 Dec., 1602, when he was not quite fourteen years of age, and he remained there for more than two years. But his college life was brought prematurely to a close, before he was entitled to a degree, by his early engagement and marriage. On 26 April, 1605, he married Mary Forth, daughter and sole heir of John Forth, of Great Stambridge, in Essex. She was of a wealthy family, one of whom was knighted in 1604, and is said to have brought to her husband "a large portion of outward estate."
It is matter of tradition that he was made a justice of the peace on arriving at eighteen years of age, and that "he was exemplary for his grave and Christian deportment." As early as 1609, when he had just attained his majority, he is recorded in his father's diary as holding "his first court in Groton Hall." The wife of his youth was taken away within eleven years after their marriage, having borne him six children, of whom two had died in their earliest infancy: and a second wife, of the old Clopton family, had been buried, with her infant, only a year and a day after wedlock. He was sorely oppressed by such successive bereavements, and found consolation only in a more earnest cultivation of the Christian hope and faith that he had cherished from his childhood. There is reason for thinking that he had contemplated becoming a clergyman at this period, and his " Experiences," as written at the time and still extant, evince a deep susceptibility to religious impressions, not without a tinge of superstition. But he gradually gave himself up to the profession of his father, engaged actively in the practice of the law and in the discharge of his duties as a magistrate, and in 1626 was appointed by Sir Robert Naunton one of the attorneys in the court of wards and liveries, over which Sir Robert presided.
His professional services brought him also into connection with the parliamentary proceedings of the time, in preparing bills for legislative committees; and as late as 1628 we find record of his special admission to the Temple, of which his eldest son had been admitted a member four years previously. Meantime he was once more established in domestic life, having married in 1618 Margaret, daughter of Sir John Tyndal, knight, of Great Maplested, in Essex, who was happily spared to him for nearly thirty years, and who was to be his companion and support for seventeen of those years in the New World.
The coming over of John Winthrop to America seems not to have been the result of any long previous deliberation. The earliest intimation of such a step is found in a letter dated 15 May, 1629, in which he says: "My dear wife, I am verily persuaded God will bringe some heavye Affliction upon this lande, and that speedylye: but be of good comfort, the hardest that can come shall be a meanes to mortifie this bodye of corruption, which is a thousand twnes more dangerous to us than any outward tribulation, and to bring us into nearer communion with our Lord Jesus Christ. and more assurance of his kingdome. If the Lord seeth it will be good for us, he will provide a shelter and a hidinge place for us and others, as a Zoar for Lott, Sarephtah for his prophet," etc. At this moment he was privately preparing a careful statement of the "Reasons to be considered for juste-tieing the undertakeres of the intended Plantation in New England, and for incouraginge such whose hartes God shall move to joyne with them in it."
This is the paper that he communicated for consideration to his eldest son (afterward governor of Connecticut) in August of the same year, and which elicited from him the memorable response: "For the business of New England I can say no other thing but that I believe confidently that the whole disposition thereof is of the Lord, who disposeth all alterations by his blessed will, to his own glory and the good of his; and therefore do assure myself that all things shall work together for the best therein .... The Conclusions which you sent down I showed my uncle and aunt, who liked them well. I think they are unanswerable."
In less than a year from the date of that letter John Winthrop, the father, was established in New England, having been elected governor of Massachusetts by the company in London, on 30 Oct., 1629, and having arrived at Salem, with the charter and company, in a fleet of eleven ships, of which the "Arbella" was "the admiral," on 22 June, 1630. A few days later he went to what is now called Charlestown, and soon afterward to the site and settlement of Boston.
Both the religious and the political condition of Old England at that period were repulsive to minds like those of Winthrop and his associates. The king was systematically assuming and asserting despotic authority, and reducing the power of parliament to a nullity. Indeed, from March, 1629, no parliament was convoked for eleven years. It was the period of high commission, star chamber, tonnage and poundage, forced loans, and taxation without representation. Not a few distinguished men who opposed such a policy and resisted such exactions were seized and imprisoned. Sir John Eliot, to whom Winthrop was no stranger, was sent to the Tower for free speech in parliament, to die there after several years of suffering. The Puritan spirit, with which Winthrop strongly sympathized, was sternly repressed. Laud, as bishop of London, was already manifesting the bigoted and proscriptive policy that he displayed a few years later as archbishop of Canterbury, and which at last brought him to the block. Meantime the New World was open to freedom, and the little pioneer Pilgrim band was already sending over tidings of religious liberty from Plymouth Rock. All this will sufficiently explain the great Suffolk emigration, of which Winthrop was the chosen leader. The Massachusetts company had already established a plantation at Salem, and John Endicott had been deputed by them to govern the little colony in subordination to the governor and company in London. But they now solemnly resolved to transfer the whole government to the American soil, and Winthrop was made tile leader and governor to effect and carry out that transfer, the com-party "having received, as the record says, extraordinary great commendations of his integrity and sufficiency."
Nineteen years intervened between the arrival of Gov. Winthrop at Salem and his death in Boston in 1649, during twelve of which he was the governor of the colony, and during every year of which he was actively engaged in its affairs. He was annually elected governor till 1634, and held the office again in 1637-40, 1642-'4, and from 1646 till his death.
In 1636, when Sir Harry Vane was chosen Governor, Winthrop was deputy, and he led the opposition to Vane in the Anne Hutchinson controversy, on; which issue he was elected over Vane in 1637. He was an earnest opponent of the new Antinomian doctrines, and was active in the banishment of Mrs. Hutchinson and her followers. In 1644-'5 he was again deputy governor. During that year he was virtually impeached, but his acquittal and the speech that followed it, with his celebrated definition of liberty, are among his most memorable triumphs. Winthrop lived to see Boston, which he had founded, a thriving and prosperous capital; and the state, of which he brought over the charter, extended by successive settlements over a wide territory, and represented, in its little legislature, by deputies from nearly thirty separate towns. Other colonies had planted themselves around Massachusetts, and a New England confederation had been formed under his auspices, of which he was the first president. Free schools had been established, and a college incorporated and organized. Above all, religion had taken deep root in all the settlements, and churches were gathered wherever there was an adequate population.
Although he was a member of the Church of England as long as he resided in the mother country, and had united in an affectionate farewell to that church on his departure, he was a man who held Christianity to be above all churches. He soon saw clearly that Congregationalism was the best and only mode of planting and propagating Christianity in this part of the country and in those old Puritan times, and he was henceforth a Congregationalist until his death. Bancroft says of him: "It was principally the calm decision of Winthrop which sustained the courage of his companions." Palfrey concludes a notice of him, in his " History of New England," as follows: " Certain it is that, among the millions of living men descended from those whom he ruled, there is not one who does not, through efficient influences, transmitted in society and in thought along the intervening generations, owe much of what is best within him and in the circumstances about him to the benevolent and courageous wisdom of John Winthrop."
He kept a careful journal of all that was done by himself and others, which he designed to have revised and perfected at his leisure; but no leisure ever came to him. The first volume was published from family manuscripts (Hartford, 1790). The continuation was discovered in 1816 in the tower of the Old South church in Boston, and placed in the hands of James Savage, who published the whole journal as "The History of New England from 1630 to 1649, by John Winthrop," with notes (2 vols., Boston, 1825-'6 ; 2d ed., with additions, 1853). It furnishes the most authentic record of the early days of Massachusetts. Among other writings is an essay entitled " Arbitrary Government described; and the Government of the Massachusetts vindicated from that Aspersion." It was written by him in 1644, but it saw the light, only in 1869. His "Modell of Christian Charity,''~ written on board the " Arbella," on his way to this country, is printed in the "Massachusetts Historical Collections. His "Life and Letters " were published by Robert C. Winthrop (2 vols., Boston, 1864-'7). There is a portrait of him, ascribed to Van dyck, in the senate-chamber of Massachusetts, and reproduced in the accompanying steel engraving; a statue by Richard Greenough in the U. S. capitol at Washington, another in Boston and one in the chapel at Mount Auburn cemetery, seen in the illustration on page 573.—
His eldest son, John, known as John Winthrop the younger, born in Groton Manor, 12 Feb., 1606; died in Boston, Mass., 5 April, 1676, after being educated at Bury St. Edmunds school and Trinity college, Dublin, entered the Inner Temple, but, finding the study of law little to his taste, obtained temporary employment in the naval service and sailed under the Duke of Buckingham in the unfortunate expedition for the relief of the Protestants of Rochelle. A little later he made a prolonged tour of Europe, passed some time in Padua, Venice. And Constantinople, returning home in 1629, to find his friends busy with the great Massachusetts enterprise, in which he was soon actively enlisted. In 1631 he followed his father to New England, and he was shortly afterward elected an assistant of the Massachusetts colony, which post he retained for eighteen successive years.
In 1633 he took the chief part in the settlement of Ipswich, Mass., where he acquired a considerable estate. In 1634 he went to England on public business, and he returned, in 1635, with a commission from Lords Say, Brooke, and others, empowering him to build a fort at the mouth of Connecticut river, and constituting him governor of that region for one year from his arrival. At the expiration of this term he preferred to return to Massachusetts, where he busied himself in scientific researches, in trying to develop the mineral resources of the colony, and in building salt-works. The journal of Gov. Winthrop the elder speaks of his son John at this period as possessing in Boston a library of more than 1,000 volumes, several hundred of which are still preserved, and bear testimony to the learning and broad intellectual tastes of their original owner. In 1640 he obtained a grant of Fisher's island, which was subsequently confirmed by royal patent. In 1641 he went again to England on a long absence, bringing back with him, in 1643, workmen and machinery with which lie established ironworks at Lynn and Braintree. In 1646 he began the plantation at Pequot, better known as New London, and, having gradually acquired much landed property in that neighborhood, he transferred thither his principal residence in 1650, exchanging the duties of a Massachusetts for those of a Connecticut magistrate. In 1657 he was elected governor of Connecticut, and, with a single year's exception, he held that office till his death, nineteen years later.
From the autumn of 1661 till the spring of 1663 he was chiefly in London on business of the colony, where he became widely known as an accomplished scholar, one of the earliest and most active members of the Royal society, and the personal friend of many of the chief natural philosophers of Europe, his correspondence with whom is in print. The ability and tact that he displayed at the court of Charles II. resulted in his obtaining from that monarch a charter uniting the colonies of Connecticut and New Haven. with the most ample privileges, under which the freemen of that colony became entitled to all the rights and immunities of Englishmen. In this charter Winthrop was named first governor, and in the administration of it he passed his remaining years. His death occurred in Boston, where he had gone to attend a meeting of the commissioners of the united colonies and where he was buried in his father's tomb. He had not the latter's heroic cast of character, and his tastes were rather those of a student than a statesman; but he was a man of singularly winning qualities and great moderation, whose Puritanism was devoid of bigotry or asceticism, and who knew how to retain the esteem of those from whom he differed most widely in opinion. By Indians he was revered for his justice, and by Quakers gratefully remembered for his lenity. In chemistry and medicine he was particularly skilled, and in the dearth of medical practitioners in the colony his advice was sought far and wide. He married, in 1631, his cousin Martha, daughter of Thomas Fones, of London, and stepdaughter of Rev. Henry Painter; she died in Ipswich, without surviving issue, in 1634. He married, in 1635, Elizabeth, daughter of Ednmnd Reade, of Wickford in Essex. and step-daughter of the famous Hugh Peters; this lady, so lovingly alluded to in the letters of Roger Williams, died in Hartford in 1672, leaving two sons and five daughters. Much of the correspondence of her husband and sons is printed in the publications of the Massachusetts historical society.-- - Edited Appleton's American Biography Copyright© 2001 by VirtualologyTM
Research Links
Virtualology is not affiliated with the authors of these links nor responsible for each Link's content
John Winthrop (1588-1649)
American Literature on the Web John Winthrop (1588-1649):
General Resources: John Winthrop ...
PAL:John Winthrop (1588-1649)
... An Ongoing Online Project Paul P. Reuben | EMail: its4pr@charter.net |. "Chapter
1: Early American Literature to 1700 - John Winthrop (1588-1649)". ...
John Winthrop (1588-1649)
John Winthrop (1588-1649). Contributing Editor: Nicholas
D. Rombes, Jr. Classroom Issues and Strategies. ...
John Winthrop: A Modell
John Winthrop, A Modell of Christian Charity (1630) Collections of the Massachusetts
Historical Society (Boston, 1838), 3rd series 7:31-48.) Hanover Historical ...
John Winthrop 1588-1649
... John Winthrop 1588-1649. Homework for September 11-15, 2000. A. For Tuesday, Read
John Winthrop 1588-1649 p. 67-68. Underline most important details. . ...
xrefer - Winthrop, John (1588 - 1649)
... Winthrop, John (1588 - 1649), English colonizer; the first governor of the
Massachusetts Bay Company (1629-33, 1637-39, 1642-43, 1646-48). ...
John Winthrop
... By Carrie S. - Gotha Middle School, Windermere, Florida. John Winthrop (1588-1649)
was born in Edwardstone, Suffolk, England. He was an apprentice for a cloth ...
The San Antonio College LitWeb John Winthrop Page
The John Winthrop Page ( 1588-1649 ) Major Works " A Modell of Christian Charity
" ( c. 1630 ). A sermon containing Winthrop's famous vision of New England as ...
Amazon.com: buying info: The Journal of John Winthrop, 1630- ...
... Search for books by subject: Winthrop, John, 1588-1649 Diaries Massachusetts History
Biography / Autobiography United States - State & Local United States ...
John Winthrop
... John Winthrop (1588-1649). American Literature Sites Project Muse: Journals
Foley Library Catalog Selected Bibliography on Puritanism. ...
Winthrop, John, 1588 1649, governor of the Massachusetts Bay ...
... Winthrop, John, 1588 1649 , governor of the Massachusetts Bay colony, b. Edwardstone,
near Groton, Suffolk, England. Of a landowning family, he studied at ...
Slider.com Encyclopeadia: Winthrop, John, 1588-1649
... Winthrop, John, 1588-1649. 1588–1649, governor
of the Massachusetts Bay colony, b ...
WINTHROP, JOHN, 1588 1649, governor of the Massachusetts Bay ...
... The Columbia Encyclopedia: Sixth Edition. 2000. Winthrop, John, 1588 1649,
governor of the Massachusetts Bay colony ...
Winthrop Papers
... Also of interest is Richard S. Dunn's new edition of John Winthrop's Journal,
which has been issued by Harvard University Press.. A new page leads you to ...
John Winthrop--NSH Statue
... 1876; located in Hall of Columns. John Winthrop was born in Suffolk County, England,
on January 12, 1587 or 1588. He attended Trinity College, Cambridge, and ...
john winthrop - more information and books
... End of the list of products related to john winthrop Thank you for visiting and I
hope we have been of some help to you! Back to top of john winthrop page Home
The journal of John Winthrop, 1630-1649 (in MARION)
... Author: Winthrop, John, 1588-1649. Uniform title: Journal of the transactions
and occurences in the settlement of Massachusetts and the other New England ...
Winthrop, John, 1606 76, colonial governor in America
... John, 1606 76 , colonial governor in America, b. Groton, Suffolk, England; oldest
son of John Winthrop (1588 1649). He was educated at Trinity College, Dublin ...
John Winthdrop
... John Winthrop (1588-1649) was born in Edwardstone, Suffolk, England. He was an apprentice
for a cloth worker. At the age of 14 he went to Trinity College for ...
Grave of John Winthrop
... John Winthrop. b. January 23, 1588. d. March 26, 1649. Massachusetts Bay Colony
Governor.. King's ... USA Search Amazon.com for books about John Winthrop. ...
Winthrop, John
... John Winthrop was born in Suffolk, England, on Jan. 12, 1588, of well-to-do parents.
He was one of nine children and the only boy. He was a cheerful child ...
JOHN WINTHROP
... In 1588, Adam Winthrop, lord of a small country manor in West Suffolk, and his wife
were blessed with the birth of their only child, John. His education began ...
John Winthrop
John Winthrop (1588-1649). A Modell of Christian Charity
by Jonathan Winthrop (1630), Hanover College.
Winthrop's "City on a Hill"
... 1588 was also the year John Winthrop was born in Suffolk, England. Winthrop would
become one of the leaders in expanding England's empire in America; more ...
John Winthrop
John Winthrop (1588 - 1649). John Winthrop, Engels
advocaat, trekt in 1629 met de puriteinen mee ...
Explorations: Winthrop
John Winthrop 1588 - 1649. Biography. Born in Groton,
England, John Winthrop grew up on a farming ...
JOHN WINTHROP
JOHN WINTHROP. 1588-1649, governor of the Massachusetts Bay ... religious or governmental
policies. His son John Winthrop, 1606-76, b. England, became a ...
John Winthrop Portrait
John Winthrop (1588-1649). The American Antiquarian Society Portrait.
John WINTHROP
... John WINTHROP, 8 SmartMatches. Birth: 1588 in England. Death: 1649
in Mass. Sex: M. Father: Adam WINTHROP. Mother: Messages, ...
Sarah Swafford on John Winthrop
... John Winthrop's story begins on January 12, 1588, in Edwardston, a tiny village adjoining
the city of Groton in the county of Suffolk, England. John was reared ...
John Winthrop
... on January 12, 1588. He was one of nine children in his family. Winthrop's parents
were strict , they were strong followers of the Puritan way. John went to ...
Governor John WINTHROP & Mary FORTH
... Governor John WINTHROP, Mary FORTH. b. 12 Jan 1587/1588, Edwardstone, Suffolk, England
occ. magistrate edu. Attended Trinity College, Cambridge, briefly, then ...
Encyclopedia.com - Results for Winthrop, John
... Electric Library's Free Encyclopedia Winthrop, John 1588-1649, governor of the Massachusetts
Bay Colony; b. England. A member of the MASSACHUSETTS BAY COMPANY ...
Winthrop, John - Britannica.com
... ENCYCLOPÆDIA BRITANNICA. Winthrop, John b. Jan. 22 [Jan. 12, Old Style], 1588,
Edwardstone, Suffolk, Eng. d. April 5 [March 26], 1649, Boston, Massachusetts ...
www.britannica.com/bcom/eb/article/3/0,5716,79303,00.html - 19k - Cached - Similar pages