Appleton's Cyclopedia of American Biography, edited by James Grant Wilson, John Fiske and Stanley L. Klos. Six volumes, New York: D. Appleton and Company, 1887-1889 and 1999. Virtualology.com warns that these 19th Century biographies contain errors and bias. We rely on volunteers to edit the historic biographies on a continual basis. If you would like to edit this biography please submit a rewritten biography in text form . If acceptable, the new biography will be published above the 19th Century Appleton's Cyclopedia Biography citing the volunteer editor
Virtual American Biographies
Over 30,000 personalities with thousands of 19th Century illustrations, signatures, and exceptional life stories. Virtualology.com welcomes editing and additions to the biographies. To become this site's editor or a contributor Click Here or e-mail Virtualology here.
A
B
C
D
E
F
G
H
I
J
K
L
M
N
O
P
Q
R
S
T
U
V
W
X
Y
Z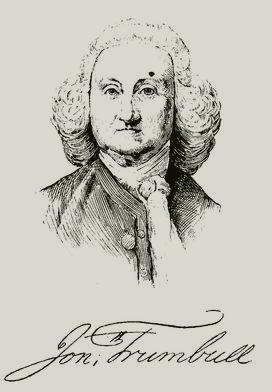 Click on an image to view full-sized
Jonathan Trumbull
TRUMBULL, Jonathan, patriot, born in Lebanon, Connecticut, 12 October, 1710; died there, 17 August, 1785. His ancestor came from England about 1639, and settled in Rowley, Massachusetts, leaving three sons. His father, Joseph, was a merchant and farmer. Jonathan was graduated at Harvard in 1727, studied theology, and was licensed to preach, but in 1731 resigned the ministry to take the place of an elder brother in his father's store. He afterward adopted the profession of law, was a member of the assembly in 1733 and its speaker in 1739, became an assistant in 1740, and was re-elected to that office twenty-two times, he was subsequently judge of the county court, assistant judge of the superior court, and in 1766-'9 chief justice of that body. He was deputy governor in 1767-'8, and governor from 1769 till 1783, when he resigned, he refused to take the oath of office in 1765 that was required of all officials to support the provisions of the stamp-act. Bancroft says of him in this period of his career (1767): "He was the model of the virtues of a rural magistrate; profoundly religious, grave in manner, discriminating in judgment, fixed in his principles." His opinion was formed that if "methods tending to violence should be taken to maintain the dependence of the colonies, it would hasten separation," that the connection with England could be preserved "by gentle and insensible methods rather than by power and force." But on the declaration of war he threw his whole influence on the patriot side, co-operated with vigor in securing the independence of the colonies, and was the only colonial governor that espoused the people's cause. When Washington wrote to him of the weakness of his army in August, 1776, Trumbull convened his council of safety, and, although he had already sent out five Connecticut regiments, he called for nine more, and to those who were not enrolled in any train-band said: "Join yourselves to one of the companies now ordered to New York, or form yourselves into distinct companies, and choose captains forthwith. March on ; this shall be your warrant. May the God of the armies of Israel be your leader." At these words the farmers, although their harvests were but half gathered, rose in arms, forming nine regiments, each of 350 men, and, self-equipped, marched to New York just in time to meet the advance of the British. In 1781, when Washington appealed to the governors of the New England states to "complete their Continental battalions," Trumbull cheered him with the words that he "should obtain all that he needed." He was the chosen friend and counsellor of Washington throughout the Revolution, who, says Jared Sparks, "relied on him as one of his main pillars of support, and often consulted him in emergencies." The epithet "Brother Jonathan." now applied as a personification of the United States, is supposed to owe its origin to Washington's habit of addressing Governor Trumbull, and to the phrase that he often used when perplexed: "Let us hear what Brother Jonathan says." In 1783 he extolled Washington's last address in a letter to him dated 10 June of that year, as "exhibiting the foundation principles of an indissoluble union of the states under one federal head." In the next autumn, when he retired from public life after fifty years' service, he set forth to the legislature of Connecticut "that the grant to the Federal constitution of powers clearly defined, ascertained, and understood, and sufficient for the great purposes of the Union, could alone lead from the danger of anarchy to national happiness and glory." Washington wrote of him as "the first of patriots, in his social duties yielding to none." The Marquis de Chastellux, the traveller, who saw him when he was seventy years of age, describes him as "possessing all the simplicity in his dress, all the importance, and even all the pedantry, becoming the great magistrate of a small republic." Yale gave him the degree of L, L. D. in 1779, and the University of Edinburgh the same in 1787. See his "Life " by Isaac W. Stuart (Hartford, 1857).--His son, Joseph, member of the Continental congress, born in Lebanon, Connecticut, 11 March, 1737; died there, 23 July, 1778, was graduated at Harvard in 1756, served in the Continental congress in 1774-'5, was commissary-general of the Revolutionary army from 19 July, 1775, till 2 August, 1777, and a commissioner of the board of war in 1777-'8, resigning in the latter year on account of the failure of his health. His services were highly eulogized in a report that was made to congress in 1779, and a commission on the sums he had disbursed was voted to his heirs.--Another son, Jonathan, statesman, born in Lebanon, Connecticut, 26 March, 1740: died there, 7 August, 1809, was graduated at Harvard in 1759, and for several years previous to the Revolution was a member of the legislature and speaker of the house. At the beginning of the war he entered the patriot army as a paymaster, and held that post till 1780, when he became aide-de-camp to General Washington, with whom he remained until the peace. He was a member of congress in 1789-'95, having been chosen as a Federalist, was speaker of the house for the last four years of his service, and became United States senator in 1795, in place of Stephen M. Mitchell, who had resigned, but he himself resigned the next year to become lieutenant-governor of Connecticut. From 1798 until his death he was governor.--Jonathan's son, John, artist, born in Lebanon, Connecticut, 6 June, 1756; died in New York city, 10 November, 1843, entered Harvard at the age of sixteen, and was graduated the following year, 1773. As he has said himself, his "taste for drawing began to dawn early." While at college he studied Brooke Taylor's " Jesuit's Perspective" and William Hogarth's "Analysis of Beauty," and after returning to Lebanon he painted the death of Paulus Emilius at Cannae. When the Revolutionary war opened, he joined the army as adjutant. His skill as a draughtsman enabled him to make drawings of the enemy's works at Boston, and Washington appointed him one of his aides-de-camp. He subsequently went northward with General Horatio Gatesas adjutant, with the rank of colonel, but on 22 February, 1777, being dissatisfied with the date of his commission as deputy adjutant-general, he resigned and resumed his art-studies. His love for military life had not left him, however, and when, in 1778, a plan was formed for the recovery of Rhode Island from the British, he joined General John Sullivan during the enterprise as volunteer aide-de-camp. In May, 1780, he sailed for France, whence, after a short stay, he went to London, with a letter from Benjamin Franklin to Benjamin West. He was soon arrested for treason, but after an imprisonment of eight months he was released, on condition of leaving the kingdom, West and John Singleton Copley becoming his sureties. When the close of the war enabled him to go again to England in January, 1784, he resumed his studies with West. He visited Paris in 1785, and there began the composition of his "Declaration of Independence." After a journey through the countries watered by the Rhine, he returned to London in the autumn of 1786. During this period he painted also his " Sortie from Gibraltar." A sketch on paper of this subject, now in the Boston athenaeum, was made in 1787. A small picture of this he presented to West, and a second one he sold. A third, finished in 1789, was purchased by the athenaum at Boston. Another, also small, was painted for William Sharp to engrave from, and with the key in Trumbull's autograph is now in Philadelphia. In 1787 and 1789 he was again in Paris, where he painted the portrait of Thomas Jefferson. He was commissioned in the summer of 1790, by the corporation of New York city, to paint a full-length portrait of Washington, and in 1791 he executed a likeness of George Clinton. These are in the city-hall, New York. Another full-length portrait of Washington, representing him on the evening before the battle of Princeton, was painted for the city of Charleston in 1792. But, a picture of Washington as president being preferred, Trumbull executed a second. The first, now at Yale, was considered by the artist the best portrayal of him "in his heroic military character." He also executed in 1794 portraits of General and Mrs. Washington, in the National museum, Washington, D. C. During this time he was also collecting a valuable series of portraits for his historical paintings. In May, 1794, he returned to England as secretary to John Jay, and in 1796 he was appointed fifth commissioner for carrying into execution the seventh article of the treaty of 1794. In June, 1804, he came again to the United States, settling in New York as a Portrait-painter. At this time were painted the portraits of John Jay and Alexander Hamilton for the city of New York, and Timothy Dwight and Stephen Van Rensselaer, which are at Yale. In 1817 he was commissioned by congress to paint historical pictures for the rotunda in the capitol. The subjects were "The Declaration of Independence," "The Surrender of Burgoyne," "The Surrender of Cornwallis," and "The Resignation of Washington." The pictures were completed in 1824, and exhibited in various cities. They have been made familiar by engravings (notably the " Declaration," by Asher B. Durand), and have been the subject of much criticism. In 1816-'25 he was president of the American academy of fine arts. He subsequently projected a new series of historical pictures, but the paintings remained unsold. He was glad, therefore, to present his works to Yale, in return for an annuity of $1,000. In this final disposition of his worlds he made the condition that after his death the entire proceeds of the exhibition of the gallery were to be "perpetually appropriated toward defraying the expense of educating poor scholars in Yale college." A fire-proof gallery was erected by the college, and his pictures were arranged there under his own direction. On the completion of the new art-school building they were removed thither. He removed to New Haven in 1837, but in 1841 returned to New York, where he remained until his death. Trumbull's fame rests mainly on the four paintings in the capitol, the "Battle of Bunker Hill," and "Death of Montgomery," which two pictures still stand unexcelled in American historical painting, and on such strong portraits as those of Washington and Alexander Hamilton. The miniature likenesses in seine of his pictures are at times more successful than his large portraits, His paintings comprise numerous copies, historical and scripture subjects, and portraits, including, besides those already mentioned, those of John Adams (1797) ; Jonathan Trumbull and Rufus King (1800) ; and Christopher Gore (1800). Several of his works, especially portraits, are in the New York historical society's rooms, the city-hall, New York, and other public institutions and private galleries, but most of them are in the gallery at Yale. There are five portraits of Trumbull--one by himself, painted in 1833, two by Samuel Waldo and Matthew H. Jouett, of which one is in the old gallery at Yale, beneath which he is buried, a good cabinet full-length by George W. Twibill, in the National academy, and one by Gilbert Stuart. A bust by Ball Hughes is at Yale. The most interesting account of Trumbull's life is found in his "Autobiography" (New York, 1841). See also Elizabeth B. Johnson's " Original Portraits of Washington" (Boston, 1882), and an article by John Durand, in the "American Art Review" for 1881. William Dunlap's account, though full, is prejudiced and unjust. Thomas S. Cummings, in his "Historic Annals of the National Academy," gives a full account of the part Trumbull played in opposing the formation of that institution.--A grandson of the first Jonathan, Joseph, congressman, born in Lebanon, Connecticut, 7 December, 1782; died in Hartford, Connecticut, 4 August, 1861, was graduated at Yale in 1801, admitted to the bar of Windham in 1803, settled in Hartford the next year, and practised his profession there till 1828, when he became president of the Hartford bank. He represented that city in the legislature in 1832-'48 and 1851, served in congress in 1834-'5, having been chosen as a Whig to fill the vacancy left by the resignation of William W. Ellsworth, and sat again in that body in 1839-'43. In 1849-'50 he was governor of Connecticut. Yale gave him the degree of LL.D. in 1849. He was active in fostering public internal improvements, and in many educational enterprises. During his later life he was president of a railroad company.
Edited Appletons Encyclopedia, Copyright © 2001 VirtualologyTM

Unauthorized Site: This site and its contents are not affiliated, connected, associated with or authorized by the individual, family, friends, or trademarked entities utilizing any part or the subject's entire name. Any official or affiliated sites that are related to this subject will be hyper linked below upon submission and Evisum, Inc. review.
Copyright© 2000 by Evisum Inc.TM. All rights reserved.
Evisum Inc.TM Privacy Policy