The Seven Flags of the New Orleans Tri-Centennial
Andrew Jackson


17th President of the United States
7th under the US Constitution
1767-1845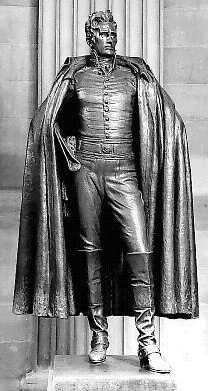 7th President of the United States
ANDREW JACKSON was born on March 15, 1767 to Scott's-Irish parents who came to America only two years earlier in 1765 from Northern Ireland, with their two sons, Hugh and Robert. His father, also named Andrew Jackson, took up farming in the backwoods Waxhaw settlement on the border between North and South Carolina. He died in 1767, prior to Andrew's birth. His mother, Elizabeth Hutchinson Jackson, moved her family into the home of a nearby relative, James Crawford. There Jackson spent his childhood, attending frontier schools and acquiring the reputation of being hot tempered and easily provoked to fight. He learned to read and read so well that he was often called upon by to read aloud the Philadelphia papers to the entire community. 
In 1780, when Jackson was 13, the Revolutionary War reached the Carolinas. All three Jackson boys joined in the fight against the British, Andrew becoming a orderly and messenger in the mounted militia of South Carolina. Hugh Jackson was killed in the war, and when the British raided Waxhaw, both Andrew and Robert were taken prisoner. Sent to the British prison in Camden, South Carolina, Andrew was struck with a sword across his face and arm and nearly killed because he refused to polish a British officer's boots. Andrew and Robert imprisoned together contracted the epidemic of smallpox that had overrun the prison. Jackson's mother got the boys released, but his brother died on the long trip home. Mrs. Jackson later volunteered to nurse other wounded American prisoners and she was fatally stricken by cholera. Jackson, now fourteen years old, was without any immediate family. He managed to finish school, took up saddle making and started teaching for a year or two. Upon inheriting $300 from his grandfather, and after spending most of it on fancy living in Charleston, he moved to Salisbury, North Carolina to study law under Spruce Macay, a lawyer. He was admitted to the bar in 1787 and set up his own practice in McLeanville, North Carolina. The next year, he and another lawyer, John McNairy crossed the Cumberland Mountains to settle in the "Western District". There were few lawyers in the frontier village of Nashville, in what was to be the state of Tennessee, but McNairy had connections and was made a judge of the district's superior court. McNairy appointed his friend, Jackson, as solicitor general, and he soon was making a name for himself prosecuting debtors, building up a successful law practice and speculating in land.
The widow of John Donelson, the founder of the city of Nashville, ran the boarding house where Jackson was living. Mrs. Rachel Donelson Robards, their daughter was also staying at the house, having been estranged from her abusive husband. Jackson fell in love and believing that Lewis Robards had obtained a divorce after moving back to Kentucky, he and Rachel were married in August 1791. Two years later, they learned to their dismay that the Robards divorce was just finalized, Rachel's first husband had not obtained a divorce when Andrew married her, only permission to file for one. The Jacksons were immediately remarried on January 17, 1794. The Jacksons never had any children of their own, but in 1809, they adopted an infant nephew of Rachel's and named him Andrew Jackson, Jr. They also raised three other nephews of Rachel's as well as a Native American boy whose parents had been killed in Jackson's campaign against the Creek nation in 1814.
In 1796, the state of Tennessee was carved out of the new territory and Andrew Jackson was elected a delegate to the state constitutional convention and its representative in the House. After one year in the House, Jackson was elected to serve an un-expired term in the Senate. He served from September 1797 to April 1798 and returned to Tennessee to devote his energy to his plantation, The Hermitage and breeding racehorses. He remained active in local politics, but he took no interest in national affairs. His hot temper involved him in many feuds and duels. Most were caused by remarks made about his wife's honor and Jackson had never been known to back away from a fight. In 1806, he was challenged to a duel with Charles Dickinson. Jackson had stated that he would deliberately allow Dickinson to fire first, as Dickinson was the considered the faster and better shot. This would give Jackson time to take aim for he was determined to kill his man with a single bullet, even "if he had shot me through the brain". Jackson took a bullet in the chest and without flinching, calmly killed Dickinson.
Jackson was elected major general of the Tennessee militia in 1802. When the War of 1812 broke out, Jackson offered his services and early in 1813 the Governor of Tennessee, Willie Blount, sent Jackson to New Orleans, Louisiana. Jackson and his men had gone as far as Natchez, Mississippi when word reached them that the War Department and nullified his orders. Jackson was to disband the men and send them on their way home; however, his 2,500 troops were without supplies, food or equipment. Instead, Jackson personally led his men back to Tennessee and he gained their admiration and respect. They said that he was as tough as "old hickory" and the nickname stuck. In 1813, he led an ill equipped and poorly trained troop against the Upper Creek Indians, allies of the British, who had killed settlers at Fort Mims. In March of 1814, his victory over the Creek at the Battle of Horseshoe Bend ceded 23 million acres of Native American land to the United States. Jackson allowed the Creek women and children to cross the Tallapoosa River to safety before wiping out the Creek forces. In May 1814, Jackson was made major general of the United States Army and received orders to proceed to New Orleans and defend the city against a British attack. He found the city in chaos and declared martial law, amassing an army of 5000 comprised of Frenchmen, pirates, blacks, Creoles as well as his sharp-shooting Tennessee and Kentucky militia. Jackson was at the disadvantage however, facing 8700 British veterans of European warfare, led by Lieutenant General Sir Edward Pakenham. On December 13, 1814, Jackson learned of the plan for a surprise British attack on the city, planned for that evening. Jackson launched his own surprise attack that same evening and halted the British offensive. On January 8, 1815, the British launched a full attack. Jackson's troops held and the British retreated with over 2,000 casualties. The Americans lost only 13 lives and Jackson became a national hero. The Battle of New Orleans was the only major victory won on land by Americans during the war, and it was actually fought two weeks after the war had officially ended with the signing of the Treaty of Ghent. Because of the slow communication of the time, neither side in the battle had known the war had ended.
Jackson's military career had ended in 1819, but he had become a hero of the frontier and one of the most discernible men in the United States. In 1822, the Tennessee legislature had suggested he be nominated for President, and in 1824 he was formally proposed as the Democratic-Republican candidate, supported by a number of his influential friends from Nashville, including Senator John H. Eaton. His first campaign ended with his winning the bulk of the popular vote receiving 152,899 to John Quincy Adams' 105,321, Henry Clay of Kentucky received 47,265 and William H. Crawford of Georgia received 47,087. However, Jackson lost the presidency when his failure to gain a majority in the Electoral College threw the race to the House of Representatives, which voted in favor of fellow Republican, John Quincy Adams. The debate in the House became ugly; Adams supporters tried to undercut Jackson's appeal in any way possible. They ridiculed his lack of education and accused him of everything from land frauds to murder. The even resurrected the allegations that Rachel Jackson had been a bigamist and an adulteress.
As soon as Adams was elected, Jackson readied himself for the 1828 campaign. He returned to Hermitage while supporters campaigned actively in his behalf. Early in the campaign, rumors had appeared in pro-Adams newspapers and one had even editorialized "Ought a convicted adulteress and her paramour husband be placed in the highest offices of this free and Christian land?" The campaign quickly forgot the real issues as each side made vicious personal attacks. In 1825, he started an opposition party calling it the Democratic-Republicans. Jackson won the election having carried the West and the South while Adams carried the New England States. Jackson became the first President from the emerging west and created what is today know as the Democratic Party. However, his victory was short lived when his beloved wife Rachel died of a heart attack less than three months before his inauguration. Jackson blamed his political detractors for the grief they caused her in their slanders against her during the campaign. At her funeral the President-elect said, "May God forgive her murderers, as I know she forgave them. I never can."
Still deep in mourning over the death of his wife, a 62-year-old Jackson arrived in Washington, DC for his inauguration, old wounds and a tubercular cough were causing him great pain. The outgoing John Quincy Adams refused to attend his successor's inauguration and greeted the new President coldly. However, Jackson's personal charisma, his penchant for plain talk and his image as a Washington outsider proved irresistible to the public. He rolled into office on a wave of populist fervor, and thousands of people nearly caused a riot at his inaugural reception. Jackson had to flee through a rear door and the crowd left only when the refreshments were moved to the lawn outside.
Jackson's was a strong supporter of the "spoils system" which had existed since the beginning of the republic. He was more open in rewarding his political supporters with Cabinet positions, and even made it a policy of his administration. He believed the government had become too bureaucratic and felt if he replaced the bureaucrats with his own partisans, he was making the government more democratic. However, Jackson did not rely on his official Cabinet in policy formation, he instead relied on a group of close friends who became known as his "Kitchen Cabinet". His veto in of a bill to recharter the National Bank infuriated his opponents, but not the people. The rechartering of the Bank became the chief issue of the election and he was reelected decisively.
However, by this time, Jackson's image was propagated to the public mostly through the rhetorical forms of the day. Through popular songs, cartoons and newspapers, Jackson was shown as the hero and farmer politician, doing his duty for his country. In reality, Jackson had lost most of his top teeth by 1828 and had increasing difficulty delivering speeches. He also had a habit of replying rashly and speaking out of turn. However, Jackson used the power of the Presidency like no one before him. He truly believed in the collective wisdom of the majority and his handling of the White House is a fine example of his dedication to the people. He considered it the "People's House" and he served as their "steward". His determination to advance democracy to its farthest limits was a radical idea and he is one of the few who left the office of the Presidency more popular then when he entered it. However by 1836, he was weak from tuberculosis and had no thought of seeking a third term. The last days of his presidency were as much a victory as the first. Thousands came, not to see the new president, but to say good-bye to their hero, Jackson.
Jackson retired to his plantation "The Hermitage", near Nashville, Tennessee. He died on June 8, 1845 at the age of 75.
Andrew Jackson autograph letter signed, written in the third person to Daniel Garland, promising an order to release a fugitive from the Washington County jail; one page on watermarked wove; June 15, 1829.