The Seven Flags of the New Orleans Tri-Centennial
California
Thomas Starr King
1824-1864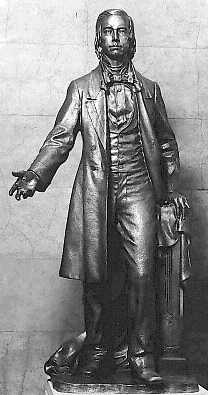 Photo by: National Statuary Hall Collection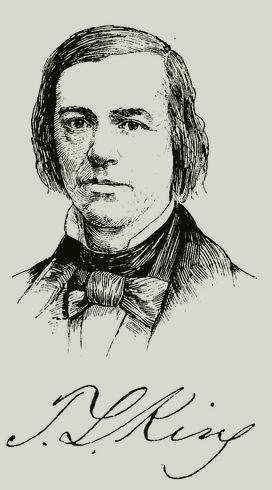 Click on an image to view full-sized
Thomas Starr King
KING, Thomas Starr, clergyman, born in New York city, 17 December, 1824; died in San Francisco, California, 4 March, 1863. He was the son of a Universalist clergyman, and his early life was spent in various towns where his father preached. In 1835 the family settled in Charlestown, Massachusetts, where, after the death of his father, he became a clerk in a dry-goodsstore. In 1840 he was appointed assistant teacher in the Bunker Hill grammar school, and his time outside of his regular duties was spent in study. Two years later he became principal of the West grammar school of Medford, Massachusetts, where he studied for the ministry under Hosea Ballou Subsequently he was clerk in the navy yard at Char lest own, and in September, 1845, he delivered his first sermon in Woburn. He then preached for a Universalist society in Boston, and in July. 1846, he was called to his father's former church in Charlestown. In 1848 he accepted a call from the Hollis street Unitarian church, where he continued for eleven years. During this term of ministry he grew steadily in power and reputation. He was not considered as profoundly learned; he was not a great writer; nor could his unrivalled popularity be ascribed to his fascinating, social, or intellectual gifts. " It was," says Dr. Henry W. Bellows, "the hidden, interior man of the heart, the invisible character behind all the rich possessions, intellectual and social, of this gifted man, that g, 'ave him his real power and skill to control the wills, and to move the hearts, and to win the unbounded confidence and affection of his fellow-beings." Mr. King also at this time acquired great popularity as a lecturer in the northern states. His first lecture was on "Goethe," and it was followed by one on "Substance and Snow," which almost equalled in popularity that of Wendell Phillips on "The Lost Arts." The subjects which he afterward selected, such as "Socrates," "Sight and Insight," and "The Laws of Disorder," obtained almost as great a reputation.
His name soon became associated with the White mountains, for it was there that he spent most of his summers, drawing in those inspirations, descriptive of natural scenery, which abound in his discourses, and he was familiar with every ravine and peak of that region. In 1853 he began to print accounts of his explorations in the "Boston Transcript," and, having visited it for ten years in winter as well as summer, he embodied the results of his experience in a volume entitled "The White Hills, their Legends, Landscape, and Poetry" (Boston, 1859; new ed., 1887). In 1860 he left Boston, and accepted a call to San Francisco, California As in the east, he was soon asked to lecture in California and Oregon. Letters of his experience found their way to the Boston papers, and, as the White mountains became known largely through his efforts, so too he was one of the first to call public attention to the beauties of the Yosemite valley. In the presidential canvass of 1860, when the suggestion of a Pacific republic was made, "taking the constitution and Washington for his text, he went forth appealing to the people." He spoke on "Webster and the Constitution," "Lexington and the New Struggle," and " Washington and the Union," and his magnificent eloquence swept everything before it. Mr. King urged the paramount duty of actively supporting the Union; "for," he contended, "whatever of theory, of party, of personal ambition, or of prejudice, in this great hour, may have to pass away, it seems to be the will of the' American people that the grand inheritance of the fathers of the republic shall not pass away."
To him credit is given for having preserved California to the Union, and later, when the civil war had begun, he was active in his labors with the sanitary commission. Meanwhile he was occupied with the building of a new church, and in September, 1862, the corner stone was laid. On Christmas, 1863, the church was finished, and it was dedicated on 10 January, 1864. Before March came, he was stricken with diphtheria, and after a few days' illness died. His remains were buried in the church that he had built, and remained there until 1887, when, on the sale of the church property, the sarcophagus was transferred to the Masonic cemetery. A movement for the purpose of erecting a monument in Golden Gate park, to cost $50,000, has taken shape in San Francisco during the present year (1887), and the collection of funds is now in progress throughout California. Mr. King received the degree of A. M. from Harvard in 1850. Several volumes of his sermons appeared posthumously, including " Patriotism and Other Papers "(Boston, 1865); "Christianity and Humanity," with a memoir by Edwin P. Whipple (1877); and "Substance and Snow " (1877). See also "A Tribute to Thomas Starr King," by Richard Frothingham (1865).
Edited Appletons Encyclopedia by Stanley L. Klos, Copyright © 2001 VirtualologyTM

The Congressional Evolution of the United States Henry Middleton
Unauthorized Site: This site and its contents are not affiliated, connected, associated with or authorized by the individual, family, friends, or trademarked entities utilizing any part or the subject's entire name. Any official or affiliated sites that are related to this subject will be hyper linked below upon submission and Evisum, Inc. review.
Copyright© 2000 by Evisum Inc.TM. All rights reserved.
Evisum Inc.TM Privacy Policy