Appleton's Cyclopedia of American Biography, edited by James Grant Wilson, John Fiske and Stanley L. Klos. Six volumes, New York: D. Appleton and Company, 1887-1889 and 1999. Virtualology.com warns that these 19th Century biographies contain errors and bias. We rely on volunteers to edit the historic biographies on a continual basis. If you would like to edit this biography please submit a rewritten biography in text form . If acceptable, the new biography will be published above the 19th Century Appleton's Cyclopedia Biography citing the volunteer editor
Virtual American Biographies
Over 30,000 personalities with thousands of 19th Century illustrations, signatures, and exceptional life stories. Virtualology.com welcomes editing and additions to the biographies. To become this site's editor or a contributor Click Here or e-mail Virtualology here.
A
B
C
D
E
F
G
H
I
J
K
L
M
N
O
P
Q
R
S
T
U
V
W
X
Y
Z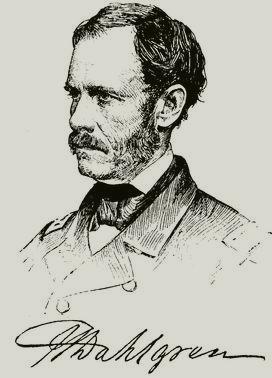 Click on an image to view full-sized
John Adolph Dahlgren
DAHLGREN, John Adolph, naval officer, born in Philadelphia, Pennsylvania, 13 November 1809; died in Washington, D. C., 12 July 1870. His father, Bernard Ulric Dahlgren, was Swedish consul at Philadelphia till his death in 1824. The great object of the son's early ambition was to enter the navy of the United States, and he received his midshipman's warrant on 1 February 1826, making his first cruise in the "Macedonian," of the Brazil squadron, in 1827-'9. He was attached to the sloop "Ontario," of the Mediterranean squad-ton, in 1830-'2, and made passed midshipman in the latter year, and in 1834, owing to his mathematical proficiency, detailed for duty on the coast survey. In this year he wrote a series of letters on naval topics to the Philadelphia " National Gazette," signed " Blue -Jacket."
He was commissioned lieutenant in 1837, and in the same year his hitherto exceptionally fine sight became so impaired by incessant labor as to threaten entire loss of vision, and an absolute rest was needed. During this period of enforced inaction Lieutenant Dahlgren resided on a farm. In 1842 he resumed duty, and in 1843 went to the Mediterranean in the frigate " Cumberland," returning late in 1845 to the United States, the cruise having been shortened by the prospect of a war with Mexico. In January 1847, Lieutenant Dahlgren was assigned to ordnance duty at Washington, although he desired, and made an effort to obtain, active duty at sea. Then began those labors as an ordnance officer which for sixteen years demanded the most extraordinary energy, and which finally made Dahlgren chief of ordnance, and gave him the world's recognition as a man of science and inventive genius. He saw almost at once the defects in gunnery then existing, and soon offered the remedy in the style of cannon known by his name, which for so many years constituted the naval armament of the United States.
He proposed it in 1850, and the first gun according to his design was cast in May of that year. These guns are of iron, east solid, and cooled from the exterior. They are distinguished by great thickness at the breech, rapidly diminishing from the trunnions to the muzzle, and were the first practical application of results obtained by experimental determination of pressures at different points along the bore. They are chiefly smoothbores of nine-and eleven-inch caliber; but Dahlgren also invented a rifled cannon, and introduced boat-howitzers with iron carriages, which were unsurpassed for combined lightness and accuracy. Under the sole direction of Lieutenant Dahlgren, the ordnance department at Washington acquired the most extensive additions, including the foundry for cannon, gun-carriage shops, the experimental battery, and equipment of all kinds. He was made commander in 1855, and, in order to introduce innovations that completely revolutionized the armament of the navy, and to remove objections particularly to his eleven-inch gun, which was then considered too heavy for use at sea, he was permitted to equip the sloop-of-war "Plymouth" entirely as he wished. The experimental cruise of this vessel lasted from 1857 till 1859. He was on ordnance duty at the Washington navy yard in 1860-'1, and on 22 April 1861, after the resignation of Franklin Buchanan, who entered the Confederate service, was given command of the yard, which was not only of great importance on account of naval resources, but also as the key of the defenses of Washington on the left. Commander Dahlgren hastened to secure the only route left to the capital by the Potomac River, and, when Alexandria was seized, he moved down the left wing of the column under Colonel Ellsworth.
He was appointed chief of the ordnance bureau on 18 July 1862, and shortly afterward promoted to be captain, his commission being antedated to 16 July. On 7 February 1863, he was made a rear admiral, receiving at the same time the thanks of congress, and ten years additional on the active list, which, however, he did not live to enjoy. In July 1863, he was ordered to relieve Admiral Dupont in the command of the South Atlantic blockading squadron. In July August and September of that year he co-operated with the land forces under General Gillmore in various attacks on the defenses of Charleston, and succeeded, by silencing Fort Sumter and the batteries on Morris island, in obtaining for the monitors a safe anchorage inside the bar, thus putting a stop to blockade-running. His failure to take Charleston provoked some hostile criticism, but his operations had the continuous approval of the navy department. He led a successful expedition up St. John's River in February 1864, to aid in throwing a military force into Florida, co-operated with Sherman in the capture of Saran-nab, on 23 December and entered Charleston with General Schimmelpfennig on its evacuation in February 1865. In 1866 he was given command of the South Pacific squadron. He was again chief of the ordnance bureau in 1868-'70 and a few months before his death was relieved at his own request and appointed to the command of the Washington navy yard. His death was the result of heart disease.
Admiral Dahlgren was a man of great personal bravery, dignified in manner, and of exemplary character. He published many scientific works on ordnance, which have been used as Textbooks in the navy. They include "Thirty-two-pounder Practice for Rangers" (1850): "System of Boat-Armament in the U. S. Navy" (1852 ; French translation, 1855); "Naval Percussion Locks and Primers" (1852); "Ordnance Memoranda" (I853); "Shells and Shell-Guns," explaining his own sys-tern(1856); and various reports on ordnance, armored vessels, and coast defenses. After his death appeared "Notes on Maritime and International Law," with a preface by his widow, indicating the plan of an uncompleted work (Boston, 1877). See " Memoir of John A. Dahlgren," by his widow (Boston, 1882).
--His son, Ulrie Dahlgren, born in Buckscounty, Pennsylvania, in 1842 ; died near King and Queen's Court-House, Virginia, 4 March 1864, removed to Washington with his father in 1848. In the intervals of study he spent his time in the navy yard, where he became familiar with the construction and use of artillery, and was taught by the sailors to swim and row. He began the study of civil engineering in 1858, and in 1860 began also to study law in Philadelphia; but, at the beginning of the civil war, he returned to Washington, and just after the first battle of Bull Run was sent by his father to place and take charge of a naval battery on Maryland heights. He then became aide to General Sigel, and served through Fremont's mountain campaign and through Pope's campaign, acting as Sigel's chief of artillery at the second battle of Bull Run. In November 1862, he attacked Fredericksburg at the head of Sigel's body-guard of 57 men, and held the town for three hours, returning with 31 prisoners, and for his gallantry was detailed as special aide on General Burnside's staff. He was afterward on General Hooker's staff, distinguished himself at Chancellorsville, and as aide to General Meade performed much dangerous and important service in the Gettysburg campaign at the head of a hundred picked men. On the retreat of the enemy from Gettysburg he led the charge into Hagerstown, and was severely wounded in the foot. His leg was amputated, and for a time his life was in danger; but he recovered, was promoted to colonel for his gallantry, and, though obliged to walk on crutches, returned at once to active service. He lost his life in a raid planned by him, in concert with General Kilpatrick, to release the Union prisoners at Libby prison and Belle Isle. A memoir of him, written by his father, was revised and published by his stepmother (Philadelphia, 1872).
-Admiral Dahlgren's second wife, Madeleine Dahlgren, born in Gallipolis, Ohio, about 1835, is a daughter of Samuel F. Vinton, for over twenty years a leader of the Whig party. At an early age she married Daniel Convers Goddard, of Zanesville, who died, leaving two children. She married Admiral Dahlgren on 2 August 1865, and has three children of this marriage. As early as 1859 she published sketches and poems under the pen name of "Corinne." In 1870-'3 she actively opposed the movement for female suffrage, and drew up a petition to congress, which was extensively signed, asking that the right to vote should not be extended to women. The literary society of Washington, of which she was one of the founders, held its meetings in her house for six years, and she was elected its vice-president. She was for some time president of "The Ladies' Catholic Missionary Society of Washington," and has built the chapel of "St. Joseph's of the Sacred Heart of Jesus," in South Mountain, Maryland Mrs. Dahlgren's works include ' Idealities" (Philadelphia, 1859); " Thoughts on Female Suffrage" (Washington, 1871); "South Sea Sketches" (Boston, 1881); " Etiquette of Social Life in Washington" (Philadelphia, 1881); "South Mountain Magic" (1882); "A Washington Winter" and "Memoirs of John A. Dahlgren" (1882); and "The Lost Name" and "Lights and Shadows of a Life" (Boston, 1886). She has translated from the French, Montalembert's "Pins IX" and De Chambrun's "Executive Power" (Lancaster, Pennsylvania, 1874), the preface to the latter being written by James A. Garfield, and from the Spanish, Donoso Cortes's "Catholicism, Liberalism, and Socialism," for which she received the thanks of Pins IX.
Edited Appletons Encyclopedia, Copyright © 2001 VirtualologyTM

Unauthorized Site: This site and its contents are not affiliated, connected, associated with or authorized by the individual, family, friends, or trademarked entities utilizing any part or the subject's entire name. Any official or affiliated sites that are related to this subject will be hyper linked below upon submission and Evisum, Inc. review.
Copyright© 2000 by Evisum Inc.TM. All rights reserved.
Evisum Inc.TM Privacy Policy