Dad, Why are you a Republican?
Philip Schuyler
Major General
1775 - 1779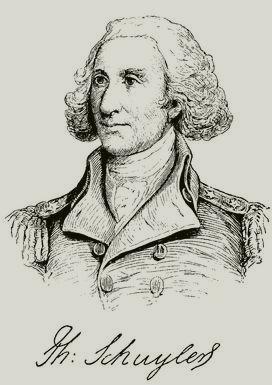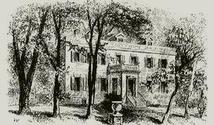 Click on an image to view full-sized
Philip John Schuyler
SCHUYLER, Philip John, soldier, born in Albany, New York, 22 November, 1733 ; died there, 18 November, 1804. He was the second son of John, nephew of Peter. He studied at schools in Albany, and received his higher education in New Rochelle, New York, where he was placed under the care of a Huguenot minister. In 1755, at the opening of the last French and Indian war, he was authorized by James De Lancey, acting governor of the province, to recruit a company for the army, and he was commissioned its captain on 14 June, 1755. His company served under General Phineas Lyman, and took part in the battle of Lake o Sepu, 1755 Schuyler spent the ensuing winter at Fort Edward, and in the spring of 1756 accompanied Colonel John Bradstreet to Oswego as commissary. In an attack that was made on the colonial force on their return by a superior number, he showed unusual ability and military skill. The incapacity of the British generals and apparent indifference of the authorities in London led to his resigning from the army in 1757, but he was frequently consulted in an advisory capacity and at times in providing supplies for the army. In the spring of 1758, at the earnest solicitation of Bradstreet, he joined the army again as his deputy commissary, with the rank of major, and served until the close of the campaign. Much important business was transacted directly by him, owing to Bradstreet's feeble health, and in 1761 he went to England, as the latter's agent, to settle accounts with the home government.
After the peace of 1763 he turned to the management of his private business. His property was large, and his estate in Saratoga was rich in timber, which he transported down the Hudson on his own vessels to New York. He also built a flax-mill, the first of its kind in the country, for which he received a medal from the Society for promoting arts. In 1764 he was appointed by the general assembly of New York a commissioner to manage the controversy on the part of his province respecting the boundary-line between that colony and Massachusetts bay, and later he was concerned in the settlement of the similar difficulty between New York and the New Hampshire grants. He was appointed colonel of a new regiment of militia in the territory lying north of Albany, and in 1768 was chosen to represent Albany in the colonial assembly. He advocated the bold measures of the times in support of the rights of the colonists in spite of the majority, and came to be the acknowledged leader of the opposition. He inspired hope and courage among his constituents, and it was on his nomination in 1770 that Edmund Burke became agent in England for the colony of New York.
He was a delegate to the Continental congress that convened in Philadelphia in May, 1775, by which he was placed on a committee with George Washington to draw up rules and regulations for the army. On the recommendation of the Provincial congress of New York he was appointed on 19 June one of the four major-generals that were named by congress He accompanied Washington from Philadelphia, and was assigned by him to the command of the northern department of New York. Proceeding to Albany, he at once engaged in the difficult task of organizing an army for the invasion of Canada. Troops were collected, but lack of arms, ammunition, and pay delayed any movement. There was also considerable ill feeling between the commanders of the colonial forces as to questions of relative rank, particularly at first between Ethan Allen and Benedict Arnold.
In August he went to Ticonderoga with the object of placing that fort and Crown Point in a state of defense. Subsequently the failure of Schuyler's health led to his transferring the command to General Richard Montgomery. He then returned to Albany, where he continued his exertions in raising troops and forwarding supplies to the army. After the death of Montgomery he made every effort to re-enforce the American army.
Early in 1776 he directed an expedition to Johnstown, where he seized the military stores that had been collected by Sir John Johnson. Jealousy existed among the officers at the front, and the New England contingent, especially, was dissatisfied with its leader, in consequence of which General John Thomas was directed by congress to take command of the army in the field, while Schuyler was continued in Albany exercising the general direction of affairs, and especially the duties of quartermaster-general and commissary-general. During the early part of 1776 he was kept continually busy by the movements of Sir John Johnson and other Tories in the Mohawk valley, and he was also considerably embarrassed by complaints that were sent by his enemies to General George Washington and congress. Schuyler's per-feet knowledge of the situation, the topography of the country, and the available supplies, led him to doubt the expediency of continuing the American forces in Canada; but, in opposition to his recommendation, congress persisted in its action, and the weak army under Thomas, suffering with smallpox, oppressed with want, and lacking in discipline, was kept on the frontier. Mean while a strong British force, under General John Burgoyne, had arrived in Canada, and the American army had fallen back on Crown Point greatly reduced in numbers.
In May, General Horatio Gates was ordered to the command of the army in Canada, which had been made vacant by the death from small-pox of General Thomas. On reaching Albany, believing himself in command of the department, he issued orders that con-flitted with those of Schuyler, in consequence of which the latter agreed to co-operate with him, and meanwhile submitted the question of precedence to congress, through General George Washington. That body recommended that the officers act in harmony with each other. Schuyler occupied himself at, this time in negotiations with the Six Nations, in virtue of his office of Indian commissioner, and in fitting out a fleet for operations on Lake Champlain. Gates was not satisfied with the action of congress and began to intrigue for the removal of Schuyler, who, on 14 September, 1776, formally offered his resignation, but congress declared that it could not dispense with his service, and its president, John Hancock, requested him to continue in command.
Great credit is due to Schuyler for conducting the affairs of this department under peculiarly adverse conditions; and the proffer of his resignation was the result of persistent neglect on the part of congress to take action on his appeals for supplies and men, as well as their habit of conferring directly with Gates, who openly used his influence among the New England delegates to have himself confirmed as commanding general. In spite of chronic illness, Schuyler acquiesced in the action of congress, and continued in his efforts to aid Gates and in preparing defenses to meet Burgoyne, whose invasion was confidently expected. Early in 1777 he was chosen to represent New York in the Continental congress, and was appointed chief of the military in the state of Pennsylvania. He then made his appeal to congress concerning letters of censure that had been sent to him from that body, and so thoroughly vindicated himself that he was directed to proceed to the Northern department and take command there. Closing his official work in Pennsylvania, where he had rendered excellent service in organizing the militia, Schuyler returned to Albany early in June, and proceeded with his preparations for an attack from Canada.
The advance of Burgoyne forced the American army to retreat until Ticonderoga was evacuated by General Arthur St. Clair on 4 July, his force being wholly inadequate to its defense, and other retrograde movements followed. The great victory at Bennington, however, had been won before 19 August, when Gates took command of the army in virtue of a resolution passed by congress on 1 August When this action was taken Gates had been for some time absent from the army in Philadelphia, using his influence to injure Schuyler, whom he charged with neglect of duty in permitting the evacuation of Fort Ticonderoga.
The selection of Gates to the command was made by congress after George Washington had declined to act. A committee of investigation was authorized by congress, and in October, 1778, a court-martial was convened, which declared itself unanimously of opinion that Schuyler was "not guilty of any neglect of duty," and acquitted him "with the highest honor," which proceeding congress tardily confirmed several months later. Schuyler continued with the army in a private capacity until the surrender of Burgoyne. He finally succeeded in effecting his resignation on 19 April, 1779 Before his vindication by the court-martial he was chosen, in October, 1778, by the New York legislature a representative in congress; but he refused to take his seat until the sentence had been confirmed, after which he was a member of congress until 1781. Meanwhile he continued to act as Indian commissioner, holding councils and making treaties with the different tribes of the Six Nations. Although unwilling to enter active military service again, he was appointed in 1779 to confer with George Washington on the state of the Southern department, and divided his time thenceforth until the close of the war between congress and Washington's headquarters, where he became one of the most trusted counselors of the commander-in-chief.
In 1780 he was elected state senator front the western district of New York, and he served until 1784, again from 1786 till 1790, and finally from 1792 till 1797. Throughout his political life he was a Federalist, and with Alexander Hamilton and John Jay shared the leadership of that party. His influence was strongly exerted in favor of the formation of the Union, and during the administrations of Washington his power was very great. Not only was he chairman of the board of commissioners for Indian affairs, but in 1782 he was made surveyor-general of the state, and also a member of the council of appointment of New York. In December, 1788, he and Rufus King were chosen the first senators of New York, and he held that office from 4 March, 1789, till 3 March, 1791. Again, succeeding Aaron Burr, he filled the same office from 15 May, 1797, till 3 January, 1798, when a severe attack of the gout, from which he had been a life-long sufferer, compelled his resignation.
For Schuyler may be claimed the paternity of the canal system of New York. As early as 1776 he made a calculation of the actual cost of a canal that should connect Hudson river with Lake Champlain. Later he was a strong advocate of the building of the canal between the Hudson and Lake Erie. He was one of the principal contributors to the code of laws that was adopted by the state of New York, and in 1784 was one of the subscribers to the funds for the building of Union college. His residence in Albany (shown in the above illustration) for more than forty years was distinguished by its generous hospitality. There Baron Dieskau became convalescent after his capture, and there the remains of Lord Howe were conveyed after his untimely death at Ticonderoga. During the Revolutionary war the congressional commissioners to Canada -- Benjamin Franklin, Samuel Chase, and Charles Carroll -- were entertained at this residence in April, 1776. Later, General Burgoyne and his suite made it their home while in Albany, and Lafayette was among the host of guests that partook of its hospitality.
General Schuyler was buried with military honors in the vault of General Abraham Ten Broeck, but finally his remains were deposited in the Albany Rural cemetery, where, in 1871, a Doric column of Quincy granite, thirty-six feet in height, was erected to his memory. See "The Life and Times of Philip Schuyler," by Benson J. Lossing (2 vols., New York, 1860-'2; enlarged ed., 1872).
His wife, Catherine Van Rensselaer Schuyler, died in Albany, 7 March, 1803, was the daughter of John Van Rensselaer, the great-grandson of Killian, the first patroon of Rensselaerwyck, and married General Schuyler on 17 September, 1755. She was the mother of eleven children, of whom Elizabeth married Alexander Hamilton ; and Margarita, Stephen Van Rensselaer, the patroon.
Philip's grandson, George Lee Schuyler, born in Rhinebeck. New York, 9 June, 1811, settled in New York city and married successively two granddaughters of Alexander Hamilton. Mr. Schuyler has been active in yachting matters, and in i882 the "America's" cup was returned to him, as its sole surviving donor, by the New York yacht club. He at once prepared a new deed of gift, gave it back to the club, to be held as a challenge-cup, and in 1887 was referee in the race between the "Thistle" and "Volunteer." Mr. Schuyler has taken interest in gathering memorials of his ancestors, and has published " Correspondence and Remarks upon Bancroft's 'History of the Northern Campaign in 1877, ' and the Character of Major-General Philip Schuyler" (New York, 1867).
Edited Appletons Encyclopedia, Copyright © 2001 VirtualologyTM

America's Four United Republics Exhibit - Click Here
Unauthorized Site: This site and its contents are not affiliated, connected, associated with or authorized by the individual, family, friends, or trademarked entities utilizing any part or the subject's entire name. Any official or affiliated sites that are related to this subject will be hyper linked below upon submission and Evisum, Inc. review.
Research Links
Constitution of the United States of America
Copyright© 2000 by Evisum Inc.TM. All rights reserved.
Evisum Inc.TM Privacy Policy