Andy Warhol, a founder of Pop Art whose paintings and prints of Superman, movie stars, soup cans and other American icons made him one of the most famous artists in the world, was born Andrew Warhola on August 6, 1928, at 73 Orr Street in Pittsburgh, Pennsylvania. He was the fourth child of Carpatho-Rusyn (Czechoslovakia) immigrants Andrej Varhola, Sr., (1889–1942) and Júlia née Zavacká, (1892–1972).

Warhol attended the Holmes School and entered Schenley High School in 1941. After graduating he enrolled in the Carnegie Institute of Technology in Pittsburgh, and earned a Bachelor of Fine Arts degree in Pictorial Design. He immediately set out for New York, after graduation, and changed his name to Warhol working as an illustrator and a commercial artist for Tiffany's, Bonwit Teller's, Vogue, Glamour, The New York Times and other magazines as well as department stores.

In 1952, his mother Julia Warhola, left Pittsburgh and resided with her son for 19 years before returning to Pittsburgh in 1971. By the late 1950's, Andy was highly successful commercial artists and earned enough money to purchase a town house in Midtown, Manhattan. He received numerous professional prizes and awards for his illustrations and expanded his talents into making a series of paitings based on comic strips, including Superman and Dick Tracy, and Coca-Cola bottles.

In 1961 his star rose with the unveiling of the famous Campbell's Soup Can series at the Ferus Gallery in Los Angeles. This was followed with a series movie star portraits, including Marilyn Monroe, Elvis Presley, and Elizabeth Taylor that were exhibited at the Sidney Janis Gallery in New York. Artists Mr. Lichtenstein, James Rosenquist and Tom Wesselman also began to achieve national prominence and with Warhol they birthed the Pop Art movement. By 1963 Mr. Warhol's experimentation resulted in him dispensing with the brush altogether and turning exclusively hard-edged images made in the medium of silk-screen print, which became Mr. Warhol's trademark depersonalized image. During this period he also started his series of "death and disaster" paintings at that time.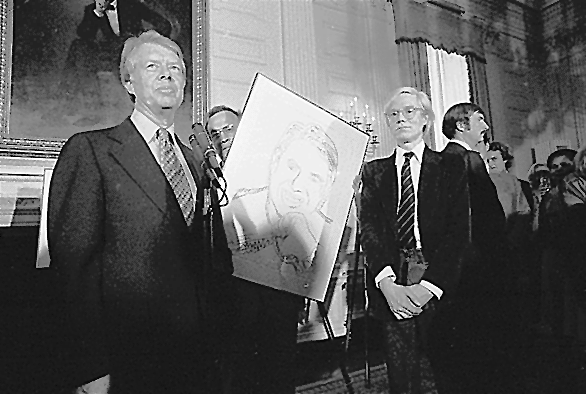 In 1964 Warhol was contracted by the Castelli Gallery, and they remained "partners" until his death in 1987. His experimentation with underground films began around that time producing Empire (1964), The Chelsea Girls (1966), and the Screen Tests (1964-66). ''Eat,'' a 45-minute film, showed the artist Robert Indiana eating a mushroom. Another film, ''Haircut'' showed a Warhol groupie having his hair cut over a span of 33 minutes, and another, ''Poor Little Rich Girl,'' featured New York social circuit celebrity Edie Sedgwick out of focus talking about herself.
In the 1970's, recuperated from his near fatal gunshot wound, Warhol co-founded Interview magazine, still in circulation, that was devoted to film, fashion, and popular culture. He remained an active artist, making a series of silk-screen prints of political and Hollywood celebrities, including Mao, Liza Minelli, Jimmy Carter and Russell Banks. He published other books including THE Philosophy of Andy Warhol (From A to B and Back Again - a collection of statements and epigrams that elucidated his contrary views on art - 1975), Exposures (1979), POPism (1980), and America (1985).
His art works throughout the 1970s and 1980s were prolific and include: Mao, Ladies and Gentlemen, Skulls, Hammer and Sickles, Shadows, Guns, Knives, Crosses, Dollar Signs, Zeitgeist, and Camouflage. In 1985 ,Warhol exhibited a group of prints of clowns, robots, monkeys and other images he made for children at the Newport (R.I.) Art Museum.
In his final two exhibitions, he returned to his calculating character seeking social awareness by creating a series of Last Supper paintings, that were shown in Milano, Italy. Additionally, his Sewn Photos which were multiple prints of identical photos sewn together in a grid were unveiled in New York also opening in January 1987, one month before his death.
Warhol died at the New York Hospital-Cornell Medical Center in Manhattan, after gall bladder surgery in his sleep around from an apparent heart attack at 5:30 A.M. on February 22, 1987. The New York Times reported:
After the news of his death was publicized yesterday, artists, celebrities and politicians who knew Mr. Warhol spoke of his influence on culture, and on their lives.

''He had this wry, sardonic knack for dismissing history and putting his finger on public taste, which to me was evidence of living in the present,'' said the sculptor George Segal. ''Every generation of artists has the huge problem of finding their own language and talking about their own experience. He was out front with several others of his generation in pinning down how it was to live in the 60's, 70's and 80's.''

Leo Castelli, Mr. Warhol's dealer of 23 years, said Mr. Warhol, more than practically any artist of the last two decades, seemed to have a continuing and strong influence on today's emerging artists. ''Of all the painters of his generation he's still the one most influential on the younger artists - a real guru,'' Mr. Castelli said.

Martha Graham, the dancer and choreographer, recalled her first meeting with Warhol. ''When I first met Andy, he confided to me that he was born in Pittsburgh as I was, and that when he first saw me dance 'Appalachian Spring' it touched him deeply. He touched me deeply as well. He was a gifted, strange maverick who crossed my life with great generosity. His last act was the gift of three portraits [ of Miss Graham ] he donated to my company to help my company meet its financial needs.''

In his book, ''The Philosophy of Andy Warhol,'' the artist wrote a short chap=ter entitled ''Death'' that consisted almost entirely of these words: ''I'm so sorry to hear about it. I just thought that things were magic and that it would never happen.''

Dr. Elliot M. Gross, the Chief Medical Examiner for New York City, said an autopsy on Mr. Warhol would be conducted today. Dr. Gross explained that deaths occurring during surgery or shortly afterward are considered deaths of an ''unusual manner.''

''It was an unexplained death of a relatively young person in apparently good health,'' he said.

Mr. Warhol is survived by two brothers, John Warhola and Paul Warhola, both of Pittsburgh.