The Seven Flags of the New Orleans Tri-Centennial
John Adams
(1735 - 1826)
Vice President under George Washington
April 12, 1789 until March 3, 1797
<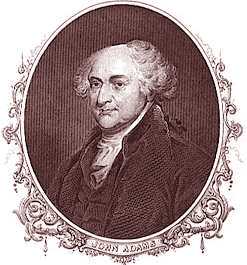 JOHN ADAMS was born October 30, 1735 and raised on his father's farm in Braintree, Massachusetts. John was small in height and build, though he soon became strong from laboring on the farm. He also was a brilliant student, graduating from Harvard when he was twenty and teaching school for a year. Young Adams then studied law and soon became a lawyer in Braintree. Adams prospered and at twenty-nine married Abigail Smith, a girl from nearby Weymouth. The couple had five children. One of them, John Quincy Adams, became the sixth president of the United States. The marriage lasted 54 years, until Abigail's death in 1818.
Representing Massachusetts at the Second Continental Congress in 1775, John Adams was a fiery patriot who advocated full independence and helped prepare the framework for the Declaration of Independence. Impetuous and short tempered, he fought tirelessly in committee and on the floor of the Congress. Though sitting with Congress for as many as seven hours a day, six days a week, John Adams managed to find time to write touching letters to his wife about the progress of independence. His "Dear Abby" epistles are considered masterpieces. A note written to his beloved wife on July 3, 1776, expressed his exuberance: Yesterday, the greatest question was decided which ever was debated in America, and a greater perhaps never was nor will be decided among men . . ." Later that day, he wrote: "…It ought to be solemnized with pomp, and parade, with shows, games, sports, ells, bonfires, and illuminations fro one end of this continent to the other, from this time forward for evermore. You will think me transported with enthusiasm, but I am not. I am well aware of the toil and blood and treasure that it will cost us to maintain this Declaration, and support and defend these states."
In 1789 George Washington was elected president, and Adams became the first vice president of the United States. Adams took office on April 30, 1789. He served as vice president under Washington for eight years. Adams cast tie-breaking votes in his role as president of the Senate, the new upper house of the Congress, on a variety of issues such as U.S. neutrality in the new war between France and Britain, the adoption of reprisals against Britain for interfering with American shipping, and he supported financial measures proposed by Secretary of the Treasury Alexander Hamilton. Adams stressed the necessity of a balanced government with "an independent executive authority, an independent senate, and an independent judiciary power, as well as an independent house of representatives."
In 1796 Washington, who had been elected president twice, declined to run for a third term. The main candidates for the office were Thomas Jefferson and John Adams. Adams won the presidency with Thomas Jefferson as his vice president. It was the only time the nation has had a president and vice president from different political parties.
John Adams was inaugurated as president at Federal Hall, Philadelphia, which was then the capital, on March 4, 1797. Adams spent only the last few months of his presidency at the new capital, Washington, D.C.
John Adams died on July 4, 1826, the 50th anniversary of the Declaration of Independence. At the age of ninety, he had the longest life of all the Presidents of the United States. Moreover, he was able to see his son, John Quincy Adams become our nation's sixth President.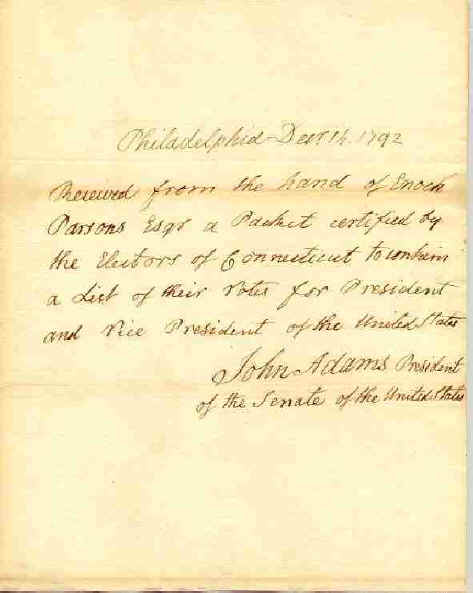 ADAMS CERTIFIES RECEIPT OF CONNECTICUT ELECTORAL VOTES
FOR PRESIDENT WASHINGTON AND VICE PRESIDENT ADAMS

An official acknowledgement that Adams himself, a candidate for Vice President, has received a tally of Connecticut's votes in the second Presidential elections held under the Constitution: a vote which resulted in the re-election of Washington and Adams. Washington's popularity had diminished little since 1789: Adams, on the other hand, had alienated many of the Jeffersonians and there was a concerted behind-the-scenes campaign to replace him with George Clinton of New York. Even Adams good friend Benjamin Rush "had so seem under the influence of Jefferson and his adherents that he joined the movement to replace Adams"-2 (P. Smith, John Adams.2:830)

Unaware that the sealed envelope containing the electoral votes from Connecticut were unanimous in supporting his re-election Adams writes in his own hand:

Philadelphia - Dec. 14, 1792

Received from the hand of Enoch Parsons, Esq. a Packet certified by the Electors of Connecticut to contain a List of their Votes for President and Vice President of the United States.

John Adams President
of the Senate of the United States

In early November 1792, electors were chosen from the fifteen states; some appointed by their state legislatures, others elected by popular vote. On 5 December the electors cast their ballots, which were formally transmitted to the President of the US Senate. In February of the following year the electoral vote was tabulated by Congress and Washington and Adams were officially declared re­elected.

President Washington received 152 of the 264 electoral votes possible (each elector cast two votes). Adams received 77 votes from 10 of the 15 states, including all Connecticut's ballots. No more than fifteen receipts would have been written by Adams (one per state). The only other example offered for sale in recent years is his receipt for North Carolina's tally of the same date, from the Philip Neufeld Collection.

Presidential Libraries

Rutherford B. Hayes Presidential Center
McKinley Memorial Library
Herbert Hoover Presidential Library and Museum - has research collections containing papers of Herbert Hoover and other 20th century leaders.
Franklin D. Roosevelt Library and Museum - Repository of the records of President Franklin Roosvelt and his wife Eleanor Roosevelt, managed by the National Archives and Records Administration.
Harry S. Truman Library & Museum
Dwight D. Eisenhower Presidential Library - preserves and makes available for research the papers, audiovisual materials, and memorabilia of Dwight and Mamie D. Eisenhower
John Fitzgerald Kennedy Library
Lyndon B. Johnson Library and Museum
Richard Nixon Library and Birthplace Foundation
Gerald R. Ford Library and Museum
Jimmy Carter Library
Ronald Reagan Presidential Library - 40th President: 1981-1989.
George Bush Presidential Library

For a High-resolution version of the Stone Engraving



For a High-resolution version of the Original Declaration of Independence

We invite you to read a transcription of the complete text of the Declaration as presented by the National Archives.

&

The article "The Declaration of Independence: A History," which provides a detailed account of the Declaration, from its drafting through its preservation today at the National Archives.

Virtualology welcomes the addition of web pages with historical documents and/or scholarly papers on this subject. To submit a web link to this page CLICK HERE. Please be sure to include the above name, your name, address, and any information you deem appropriate with your submission.


Text and Scans Courtesy of: National Archives and Records Administration

Treaty of Paris: Signed by John Adams, Benjamin Franklin, and John Jay

National Archives and Records Administration



| | |
| --- | --- |
| Control Number | NWL-46-PRESMESS-5AE1-1 |
| Media | Textual records |
| Descr. Level | Item |
| Record Group | 46 |
| Series | PRESMESS |
| File Unit | 5AE1 |
| Item | 1 |
| Title | Inaugural address of President John Adams |
| Dates | 03/04/1797 |
| Sample Record(s) | Thumbnails of online copies (with links to larger access files) |
| Creating Org. | Congress. Senate. |
| Record Type/Genre | Messages |
| See Also | File Unit Description |
| Access | Unrestricted. |
| Use Restrictions | None. |
| Items | 1 item(s) |
| Contact | Center for Legislative Archives (NWL), National Archives Building, 7th and Pennsylvania Avenue, NW, Washington, DC 20408 PHONE: 202-501-5350 FAX: 202-219-2176 |
ADAMS, John, (father of John Quincy Adams and grandfather of Charles Francis Adams), a Delegate from Massachusetts and a Vice President and 2d President of the United States; born in Braintree, Mass., October 19, 1735; was graduated from Harvard College in 1755; studied law; was admitted to the bar in 1758 and commenced practice in Suffolk County; joined the Sons of Liberty and argued against the Stamp Act; was elected to represent Boston in the general court in 1768; Member of the Continental Congress 1774-1777; signed the Declaration of Independence and proposed George Washington, of Virginia, for General of the American Army; became a member of the Board of War, but resigned to accept appointment as commissioner to the Court of France; Minister Plenipotentiary to Holland 1782; first Minister to England 1785-1788; elected in 1788 as the first Vice President of the United States with George Washington as President; reelected in 1792 and served from April 21, 1789, to March 3, 1797; elected President of the United States and served from March 4, 1797, to March 3, 1801; delegate to the constitutional convention of Massachusetts 1820; died in Quincy, Mass., July 4, 1826; interment under the old First Congregational Church, now called the United First Parish Church. - - Biographical Data courtesy of the Biographical Directory of the United States Congress.