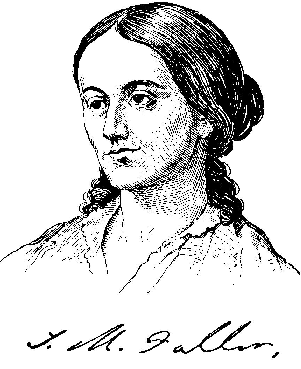 Edited A.C. Image Copyright© 2001 by VirtualologyTM
Sarah Margaret Fuller, Marchioness Ossoli, author, born in Cambridgeport, Massachusetts, 23 May 1810; died off Fire Island beach, 16 July 1850, was the eldest of eight children. She derived her first teaching from her father, studied Latin at the age of six, and injured her health by over application. At thirteen she was a pupil at the famous school of Dr. Park, in Boston, where she began the study of Greek. Thence she went to a school in Groton, kept by the Misses Prescott. On the sudden death of her father, Margaret vowed that she would do her whole duty toward her brothers and sisters, and she faithfully kept the vow, teaching school in Boston and Providence, and afterward taking private pupils, for whom she was paid at the rate of two dollars an hour.
During the transcendental period she knew intimately the leading minds of the time Emerson, Hawthorne, Ripley, Channing, Clarke, Hedgeand in the company of such was very brilliant, meeting them as equals. She first met Emerson in 1835, and the next year visited him at Concord. She went occasionally to Brook Farm, though never fully believing in the success of that experiment, and never living there. She held conversations in Boston, conducted the "Dial," translated from the German, projected works, and wrote the "Summer on the Lakes," the record of a season spent in traveling from June to September 1843. In December 1844, she went to New York as literary critic of the "Tribune," then under the management of Horace Greeley, in whose household she at first lived. While in New York she visited the prisons, penitentiaries, asylums, theatres, opera houses, music halls, picture galleries, and lecture rooms, writing about everything in the "Tribune," and doing much to move the level of thought on philanthropic, literary, and artistic matters. Her intimacies here were mainly with practical, honest, striving people. Even William H. Channing was a minister at large, C. P. Cranch received boarders, and Lydia Maria Child was connected with the press. This she called her "business life," and she pursued it unremittingly for about twenty months, after which, having saved a little money, she went to Europe on the invitation of Mr. and Mrs. Francis Spring. This was in 1846.
In Europe she saw the foremost people in the literary, social, political, and reformatory world, spent the late summer and autumn in traveling, established herself for a time at Rome in the spring of 1847, passed that summer in Switzerland and the more northern Italian cities, and returned to Rome in October. She was married in December to Giovanni Angelo, Marquis Ossoli, was a mother in 1848, and entered with zeal into the Italian struggle for independence in 1849. Her conduct during the siege of the City by the French was of the most heroic, disinterested, humane, and tender kind. Her service in the hospitals won the heartiest praise. She was a friend of Mazzini. Though racked with anxiety for her husband and child, she appeared entirely oblivious of herself. On the capture of Rome by the French in June 1849, and the consequent dispersal of the leaders in the defense, she and her husband took refuge in Rieti, a village in the mountains of Abruzzi, where the child had been left in charge of a confidential nurse, and after some months removed to Florence, which, after a delightful sojourn, they left for Leghorn, whence passage for America was taken on the "Elizabeth," a merchant vessel that sailed 17 May 1850.
Horace Sumner, a younger brother of Charles Sumner, and Celeste Paolini, a young Italian girl, were the only other passengers. The voyage began disastrously. The captain died of smallpox, and was buried at sea in the waters off Gibraltar. Head winds kept them there a week. The boy was dangerously seized with smallpox soon afterward. As the voyage neared its ending, a violent southeast wind became in the evening a gale, by midnight a hurricane, and the vessel was driven on the shore at Fire Island in the early morning at four o'clock. The wreck was complete. A great wave swept the deck, and carried all before it. The boy was drowned in the arms of the steward while the latter was trying to reach the land, and the lifeless body was carried on the beach. Neither mother nor father was heard of more.
Of Ossoli little is known. It is not strange that to most people he should be a name only, for he was married but a short time, he was not seen out of his native country, and there was known but slightly save to a small number of friends, while his inability to speak any language except his own naturally prevented his mingling with Americans. But he was a gentleman, sincere, true, and self-respecting. All we know of him is to his credit. He was sufficiently educated for his rank in society. That he was a devoted husband is certain, ready to share his wife's fortune whatever it might be, and in all respects thoughtful of her happiness, believing in her entirely. His future in this country would have been melancholy. He must have been dependent on the efforts of his wife, and those efforts, even though incessant and reasonably successful, might not have availed to support a family.
It will be seen that her career naturally fell into three divisions. The first period lasted till her life in New York in 1844. The second included her experience there. The third embraced her activity in Rome. The first, which may be called the transcendental epoch, could not be repeated. It was extremely interesting, exciting, stimulating to the mind. She was under stimulating influences. Self-culture was then the keynote of her endeavor. The third could not be reproduced. That extraordinary episode, with its raptures of self-devotion, was as exceptional, in its way, as the first. The second epoch that of literary production was still open to her, enlarged and simplified. She was essentially a critic. She was not a reformer, and could not have been, had her means been ever so ample. She lived by her pen, and her livelihood must have been precarious so much so that some of her admirers looked on the final catastrophe as deliverance for her. What she might have become if she had lived, it is useless to conjecture.
She possessed brilliant gifts of many kinds. She had a warm heart, but her natural talent was for literature. She wrote a great deal for magazines, various papers, a complete account of which may be found in Higginson's "Life." Her collected works, including "Summer on the Lakes" (1843), " Woman in the Nineteenth Century" (1844), and "Papers on Literature and Art" (1846), were edited by her brother, Rev. Arthur B. Fuller (Boston, 1855). Her book on the Roman republic was lost with her. The life of Margaret Fuller has been written by Emerson, Clarke, and Channing, edited for the most part by William Henry Channing (1852). This is strongest on the transcendental side. There is also a memoir of her by Julia Ward Howe, in the "Eminent Women" series (Boston, 1883), and one by Thomas Wentworth Higginson in the "American Men of Letters" series (Boston, 1884). The last is the most complete, though somewhat warped by the author's idea that Margaret Fuller's career culminated in philanthropy. Her brother, Richard Frederick, author, born in Cambridge, Massachusetts, 15 May 1821; died in Wayland, Massachusetts, 30 May 1869, was graduated at Harvard in 1844, and became a lawyer in Boston. Besides the life of his brother, mentioned below, he published "Visions in Verse" (Boston, 1864).

--
Edited AC American Biography Copyright© 2001 by VirtualologyTM

Research Links
Virtualology is not affiliated with the authors of these links nor responsible for each Link's content.
MARGARET FULLER HOME PAGE
MARGARET FULLER. HOME PAGE. ... Informative Links: ... I hope this page has been helpful.
Eventually all of Margaret Fuller's works will be available on-line. ...
The Margaret Fuller Society
The Margaret Fuller Society. ... June 20: Fuller at 2001 SSAWW. Call for Papers: Panel
on Margaret Fuller and Women's Health at SSAWW (July 20 Deadline). ...
Margaret Fuller
Margaret Fuller. (1810-1850). Margaret Fuller, the
first female foreign correspondent and the first ...
Margaret Fuller House -- NRHP Travel Itinerary
... 59. Margaret Fuller (1810-1850), critic, social reformer Home to Margaret Fuller
until the age of 16, this three-story, Federal style house is associated with ...
MARGARET FULLER: Grasping Freedom's Moment
MARGARET FULLER: A MAN'S MIND AND A WOMAN'S HEART? Frederic A. Moritz. ...
Margaret Fuller Quotations
... Women's Voices: Quotations from Women. Margaret Fuller. Very early, I knew
that the only object in life was to grow. I accept the universe! ...
Margaret Fuller: Summer on the Lakes, in 1843
Margaret Fuller (Sarah Margaret Fuller, Marchesa d'Ossoli) Summer On The Lakes,
in 1843 An Electronic Edition, A photograph of young Margaret Fuller. ...
Margaret Fuller - Quotation Guide
Click Here, ... Margaret Fuller: Only the dreamer shall
understand realities, though in truth his ...
Margaret Fuller
[Waypages]. Margaret Fuller. Interested in Margaret Fuller?
Use this as your starting point to find biographies,: ...
Quotations by Margaret Fuller
... Search for books by and about Margaret Fuller "Men for the sake
of getting a living forget to live." -Margaret Fuller ...
Fuller: Margaret Fuller
... Fuller: Margaret Fuller Port If ye would like to moderate the Margaret
Fuller Campfire, please drop becket@jollyroger.com a line. ...
MARGARET FULLER - Jim's Favorite Famous Quote, Quip, Axiom, ...
Please visit our sponsors. Click Here to Visit our Sponsor. ... Margaret
Fuller (1810-1850). ...
Margaret Fuller
Distinguished Women of Past and Present. ... Margaret Fuller.
(1810-1850). Margaret Fuller, the first ...
Margaret Fuller
Margaret Fuller. When education is pushed to the point of pain, power comes forth
in the form of a genius. This genius, Margaret Fuller, was put on the downside ...