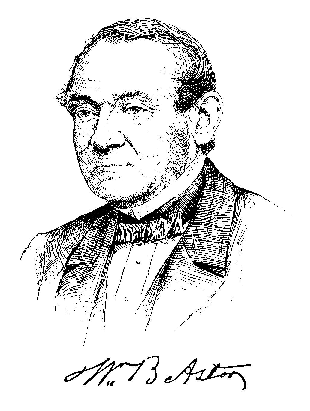 Astor, William Backhouse, eldest son of John Jacob Astor, capitalist, born in New York, 19 September, 1792; died in that city, 24 November, 1875. Until he was sixteen he went to the public schools, employing his spare hours and vacations in assisting his father in the store. He was then sent to Heidelberg, and after two years went to G6ttingen in 1810, and chose as his tutor a student, after­ward known as the Chevalier Bunsen, with whom he also traveled.
On his return to New York at the age of twenty-three, his father engaged in the China trade, and took him into partnership. The house was known as John Jacob Astor & Son from 1815 till 1827. In the latter year the firm, which was one of the largest in the China trade, was dissolved, the Astors retired from the Canton trade, and the American fur company was formed, with William B. Astor as its president, though tile father took the more active part in the business, which for several years yielded large pro­fits. Finally the elder Astor withdrew, and was soon followed by his son, and from that time forth neither of them engaged again in commerce. When John Jacob Astor died in 1848, he made his eldest son his sole heir, although he provided well for his other relatives.
William was already rich, having been successful in business, and having received from his uncle, Henry, a fortune of $500,000, and from his father the title to the Astor House prop­erty as a gift. William B. Astor, then fifty-six years of age, gave himself to the preservation and growth of the vast property. He added to the be­quest of his father for the Astor library the sum of $250,000, of which he paid during his lifetime $201,000 in land, books, and money. The edifice was completed under his directions in May, 1853. In 1855 he presented to the trustees the adjoining lot, and erected thereon a similar structure, which was completed in 1859. He next gave $50,000 for the purchase of books. He gave much patient atten­tion for many years to the administration of the library. Following the example of his father, he invested in real estate, principally situated below Central park, between 4th and 7th avenues, which rapidly increased in value. For about thirteen-years prior to 1873 he was largely engaged in build-rag, until much of his hitherto unoccupied land was covered by houses, mostly of the first class.
He was said to own in 1867 as many as 720 houses, and he was also heavily interested in railroad, coal, and insurance companies. Besides other charitable gifts, he gave $50,000 to St. Luke's hospital, and in his will he left $200,000 to the Astor library, in ad­dition to $49,000, the unexpended balance of his earlier donation. His estate, estimated at $45,000,000, was divided by his will between his two sons, John Jacob and William Astor, who were given only a life interest in the residuary estate, which descends to their children. The gifts and be­quests of William B. Astor to the Astor library amounted altogether to about $550,000. In 1879 his eldest son, John Jacob, presented three lots adjoining the library building, and erected on them a third structure similar to the others, and added a story to the central building. The edifice is represented on page 112. His outlay, exclusive of land, was about $250,000, making the entire gift of the Astor family more than $1,000,000 . -- Edited Appleton's American Biography Copyright© 2000 by VirtualologyTM