Who was the First U.S. President?
There were actually four first Presidents
of the United Colonies and States of America
Click Here
Lyndon B. Johnson
46th President of the United States
36th under the US Constitution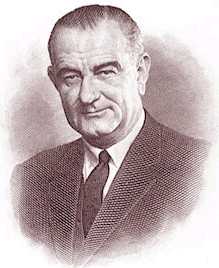 LYNDON BAINES JOHNSON was born on August 27, 1908 near Stonewall, Gillespie County, Texas. His paternal grandfather had moved to Texas from his birthplace in Georgia and had become a cattle rancher in the Pedernales River Valley west of Austin. Johnson was the eldest of the five children of Sam Ealy Johnson, Jr. and Rebekah Baines Johnson. His father struggled on the family cattle ranch and being politically active, served five terms in the Texas legislature. In 1913, the Johnson family abandoned the family ranch and moved to Johnson City, a nearby town named for his ancestors. Johnson attended public schools in Johnson City and graduated from Johnson City High School, one of six in the class of 1924.
Johnson decided to make his way to California with a five friends in an automobile he had purchased. There he performed odd jobs, picking fruit, washing cars and one as an elevator operator. A year later he hitchhiked home where he worked on a road construction gang. His mother had impressed the importance of a college education on him while he was growing up and in 1927 he decided to follow her advice. He enrolled in nearby Southwest Texas State Teachers College where he eventually received his B.S. after interrupting his education to teach Mexican children in the town on Cotulla in South Texas. After graduation, he accepted a teaching position at Sam Houston High School in Houston, where his uncle was chairman of the History department. In 1931, at the beginning of his second year teaching, he accepted a political appointment, going to Washington as secretary to Democratic Texas congressman, Richard M. Kleberg. He soon gained prominence in Washington Democratic political circles during the early days of Roosevelt's administration. In 1933 he was elected speaker of an organization of congressional workers called the "Little Congress"
On a trip home to Texas, Johnson met a women he almost immediately knew was to be his wife. Two months later she agreed and on November 17, 1934, Johnson married Claudia Alta Taylor, known as "Lady Bird", a member of a prosperous Texas family and a recent graduate of the University of Texas. The couple had two daughters, Lynda bird, born in 1944 and Luci Baines, born in 1947.
On July 25, 1935, Johnson resigned as Secretary to Representative Kleberg and accepted Roosevelt's appointment as the Texas Director of the National Youth Administration. At the age of 26, he was the youngest of the state directors. In 1937, the seat of the incumbent congressman James P. Buchanan in Johnson's 10th Texas district became vacant due to the congressman's sudden death. With $10,00 borrowed by his wife, and aided by many local friends, Johnson ran against nine opponents. On April 10, 1937, Johnson won with more than 3,000 votes than the next highest candidate. Johnson was an all out supporter of President Roosevelt and he was appointed to the House Committee on Naval Affairs at the request of the President. Johnson worked hard for public housing, rural electrification and eliminating government waste. He won reelection to each succeeding Congress until 1948.
In the spring of 1941, Senator Morris Sheppard died and Johnson announced his candidacy for the remaining term. Johnson once again ran as an enthusiastic supporter of Roosevelt's. The election in June was very close, but Johnson lost by 1,311 votes out of nearly 600,000 cast. After the Japanese attack on Pearl Harbor in December 1941, Johnson was on of the first congressman to enlist, joining the Navy. He saw action in the Pacific and received the Silver Star for gallantry. He returned to Washington in July 1942 where he headed a special investigating subcommittee of the Naval Affairs Committee. The death of President Roosevelt in April 1945 was a personal loss for him, telling a reporter that the President has been his "second daddy."
In 1948, Johnson again ran for the Senate, this time winning the primary with a final victory by a margin of 87 votes, out of nearly 900,000 cast, giving him the nickname "Landslide Lyndon". He won easily over his Republican opponent, Jack Porter, in the election and returned to Washington and immediately became a member of the Senate Armed Services Committee. He advanced rapidly in the Senate, in 1951 becoming party whip, providing leadership for his party and developing his peace-making powers. In 1953, he was elected Minority Leader of the Senate and in 1955, the Majority Leader. During his tenure as Senate Majority Leader, Johnson served as Chairman of the Democratic Policy Committee, Democratic Steering Committee, and Democratic Conference of the Senate. On July 2, 1955 Johnson suffered a severe heart attack and entered Bethesda Naval Hospital. He was released from the hospital and returned home to the LBJ Ranch to recuperate. He did not return to Washington until December. Johnson resumed his duties on the Hill, helping to secure the passage of the Civil Rights Act of 1957. He was active as Chairman of the Senate Preparedness Investigating Subcommittee, beginning hearings on the American space program.
On July 13, 1960, Johnson was nominated for President at the Democratic National Convention, but he did not count on the superbly managed campaign of John F. Kennedy, loosing the first-ballot nomination to the young Senator from Massachusetts. Kennedy then surprised many people by offering Johnson the vice-presidential nomination. A surprised Johnson accepted and threw himself into he campaign, working in the South to overcome the Southern Democrats suspicion of a Roman Catholic candidate. The election was very close, with the Kennedy/Johnson ticket winning by a narrow margin over the Nixon/Lodge Republicans.
Johnson was an unusually active vice president, participating significantly in the decision-making process, and visiting 33 countries on behalf of the administration. In November 1963, Johnson and Kennedy went to Texas and on the 22nd, they were riding in separate cars in the motorcade in Dallas when the assassin's bullets stuck the President. Johnson was administered the oath of office as the 36th president aboard Air Force One, the presidential airplane as it sat in Love Field about 112 minutes after Kennedy had died.
The new president quickly took command, placing great emphasis on continuity of the Kennedy Program. He signed the Civil Rights Act of 1964 in a televised ceremony at the White House. He ordered retaliatory air strikes against North Vietnam after the attacks on the USS Maddox and her escort the USS C. Turner Joy. He signed the Southeast Asia Resolution on August 10th, giving him authority to take "all necessary measures to repel any armed attack against the forces of the United States and to prevent further aggression." In November he was elected President of the United States with the greatest percentage of the total popular vote (61%) ever attained by a candidate. Hubert Humphrey was elected Vice President.
Johnson introduced his own "Great Society" program, declaring a "war on poverty" and calling for urban renewal, aid to education and Medicare for the elderly. But the situation in South Vietnam deteriorated and Johnson began enlarging the military commitment. Though never declared, the war in South Vietnam came to dominate his Presidency. It escalated steadily costing thousands of American lives and causing bitter protests at home. On March 31, 1968 Johnson announced that he would not be a candidate for another term as President.
Following the inauguration of Richard M. Nixon in January 1969, Johnson returned to the LBJ Ranch in Texas. He devoted his time to writing his presidential memoirs. He again suffered from his heart ailment and on January 22, 1973, he died at this ranch near Johnson City, Texas.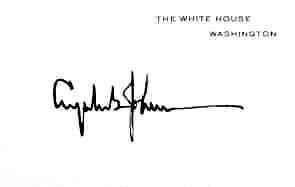 Presidents of the Continental Congress
United Colonies of The United States
Peyton Randolph
September 5, 1774 to October 22, 1774 
and May 20 to May 24, 1775

Henry Middleton
October 22, 1774 to October 26, 1774
John Hancock
October 27, 1775 to July 1, 1776
Presidents of the Continental Congress
United States of America
John Hancock
July 2, 1776 to  October 29, 1777
Henry Laurens
November 1, 1777 to December 9, 1778
John Jay
December 10, 1778 to September 28, 1779
Samuel Huntington
September 28, 1779 to February 28, 1781

Presidents of the United States
in Congress Assembled
Samuel Huntington
1st President of the United States 
in Congress Assembled
March 1, 1781 to July 6, 1781
Thomas McKean
2nd President of the United States 
in Congress Assembled
July 10, 1781 to November 5, 1781
John Hanson
3rd President of the United States 
in Congress Assembled
November 5, 1781 to November 4, 1782
Elias Boudinot
4th President of the United States 
in Congress Assembled
November 4, 1782 to November 3, 1783
Thomas Mifflin
5th President of the United States 
in Congress Assembled
November 3, 1783 to June 3, 1784
Richard Henry Lee
6th President of the United States 
in Congress Assembled
November 30, 1784 to November 23, 1785
John Hancock
7th President of the United States 
in Congress Assembled
November 23, 1785 to June 6, 1786
Nathaniel Gorham
8th President of the United States 
in Congress Assembled
June 1786 - November 13, 1786
Arthur St. Clair
9th President of the United States 
in Congress Assembled
February 2, 1787 to October 29, 1787
Cyrus Griffin
10th President of the United States 
in Congress Assembled
January 22, 1788 to March 4, 1789

Presidents of the United States
under the
United States Constitution
George Washington (F)

John Adams (F)

Thomas Jefferson (D-R)

James Madison (D-R)

James Monroe (D-R)

John Quincy Adams (D-R)
Andrew Jackson (D)

Martin Van Buren (D)

William H. Harrison (W)

John Tyler (W)

James K. Polk (D)

David Atchison (D)*

Zachary Taylor (W)
James Buchanan (D)

Abraham Lincoln (R)

Jefferson Davis (D)**

Andrew Johnson (R)

Ulysses S. Grant (R)
Rutherford B. Hayes (R)

James A. Garfield (R)

Chester Arthur (R)
Grover Cleveland (D)

Benjamin Harrison (R)

Grover Cleveland (D)

William McKinley (R)

Theodore Roosevelt (R)

William H. Taft (R)

Wilson  Woodrow (D)
Warren G. Harding (R)

Calvin Coolidge (R)

Herbert C. Hoover (R)

Franklin D. Roosevelt (D)

Harry S. Truman (D)

Dwight D. Eisenhower (R)

John F. Kennedy (D)

Lyndon B. Johnson (D)

Richard M. Nixon (R)

 Gerald R. Ford (R)

James Earl Carter, Jr. (D)

Ronald Wilson Reagan (R)

George H. W. Bush (R)

William Jefferson Clinton (D)

George W. Bush (R)


 
*President for One Day

**President Confederate States of America
Current Order of Presidential Succession

The Vice President
Speaker of the House
President pro tempore of the Senate
Secretary of State
Secretary of the Treasury
Secretary of Defense
Attorney General
Secretary of the Interior
Secretary of Agriculture
Secretary of Commerce
Secretary of Labor
Secretary of Health and Human Services
Secretary of Housing and Urban Development
Secretary of Transportation
Secretary of Energy
Secretary of Education
Secretary of Veterans Affairs
Research Links
Virtualology is not affiliated with the authors of these links nor responsible for its content.
Presidential Libraries
Rutherford B. Hayes Presidential Center

McKinley Memorial Library

Herbert Hoover Presidential Library and Museum - has research collections containing papers of Herbert Hoover and other 20th century leaders.

Franklin D. Roosevelt Library and Museum - Repository of the records of President Franklin Roosevelt and his wife Eleanor Roosevelt, managed by the National Archives and Records Administration.

Harry S. Truman Library & Museum

Dwight D. Eisenhower Presidential Library - preserves and makes available for research the papers, audiovisual materials, and memorabilia of Dwight and Mamie D. Eisenhower

John Fitzgerald Kennedy Library

Lyndon B. Johnson Library and Museum

Richard Nixon Library and Birthplace Foundation

Gerald R. Ford Library and Museum

Jimmy Carter Library

Ronald Reagan Presidential Library - 40th President: 1981-1989.

George Bush Presidential Library
 

The Congressional Evolution of the United States Henry Middleton
Unauthorized Site: This site and its contents are not affiliated, connected, associated with or authorized by the individual, family, friends, or trademarked entities utilizing any part or the subject's entire name. Any official or affiliated sites that are related to this subject will be hyper linked below upon submission and Evisum, Inc. review.
Copyright© 2000 by Evisum Inc.TM. All rights reserved.
Evisum Inc.TM Privacy Policy