Who was the First U.S. President?
There were actually four first Presidents
of the United Colonies and States of America
Click Here
Rutherford B. Hayes
29th President of the United States
19th under the US Constitution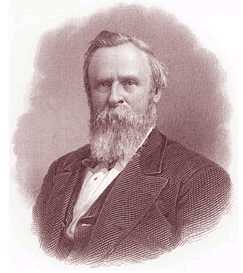 Message of President Rutherford B. Hayes nominating William M. Evarts to be Secretary of State - Courtesy of: National Archives and Records Administration
RUTHERFORD BIRCHARD HAYES was born on October 22, 1822 in Delaware, Ohio, nearly three months after the death of his father, Rutherford Hayes. The elder Hayes had left his native Vermont in 1817 to emigrate to the West, bringing with him his wife, Sophia Birchard of Wilmington, Vermont, his two young children and his wife's brother, Sardis Birchard. They settled in the town of Delaware, Ohio, where he purchased an interest in a distillery and built a considerable house. He died of the malarial epidemic that swept the region, leaving his wife with a child on the way, to the care of her brother.
Rutherford B. Hayes was a sickly child and when he was three years old, his older brother Lorenzo drowned, leaving his mother very apprehensive of young Rutherford's health and well-being. She kept him from school in his early childhood and he became timid with an aversion to the rough and mischievous ways of other boys. The boy's sole companion was his sister Fanny, a bright active tomboy, two years older than himself. When he did attend school, he was an excellent student and gave his teachers no trouble. His uncle Birchard, who had been devoted to the family, took a strong interest in the boy's schooling and decided to send young Hayes to a tutor in Connecticut where he remained for a year. On his return, he was sent to Kenyon College in Gambier, Ohio and he graduated first in his class in 1842.
Hayes decided to pursue a law profession and began his studies at the office of Mr. Thomas Sparrow in Columbus. With his uncle's approval, he attended Harvard Law School and received his degree in 1845. He was admitted to the Ohio bar and went into practice with Ralph P. Buckland in Fremont. This partnership lasted three years. Hayes uncle Sardis Birchard had by this time become a wealthy banker and the Hayes family was benefiting from his wealth. In 1849, young Hayes moved to Cincinnati, where he established his practice and made contact with some of the leading men of the city. He also renewed his friendship with his college schoolmate, Stanley Matthews and entered local politics in the new Republican Party. Within a few years he had made a name for himself as a criminal lawyer. Hayes mother had chosen a girl for him. She was Lucy Ware Webb, whom Hayes had first met at his home in Delaware when she was 15. They became engaged after she was graduated from Wesleyan Female College in Cincinnati and they were married in December 1852. Hayes was then 30 and Lucy, although only 21 was warmhearted, popular and very religious. Their first son, Birchard Austin, was born in 1853.
Hayes was a strong supporter of the Union, despite his hopes for a compromise on the issue of the Civil War. When the War broke out, he answered the call for troops in April 1861 and served the Union well for the next four years. He was wounded four times and had four horses shot out from under him. In the spring of 1865 he was placed in command of an expedition against Lynchburg when the war was brought to a close by Lee's surrender.
Hayes was nominated and elected to Congress while still in the army, but he refused to leave his command until the war was over. He took his seat I the House in December 1865 and was reelected in 1866. He made few speeches and took no part in the debates over reconstruction and always voted along party lines. In 1867 and again in 1869, Hayes was elected Governor of Ohio. He proved a capable and economical administrator, taking great interest in prison reform and in hospitals for the mentally ill. His beloved sister Fanny had been hospitalized more than once for mental illness.
In 1873 Hayes decided he was finished with politics and he retired with is family to his uncle's house, Spiegel Grove, in Fremont. His uncle died the following year and left the bulk of his large estate (mostly land) to Hayes. The Hayeses now had five children (three had died in childhood). The oldest boys, Birchard, Webb and Rutherford were at college. At home were Fanny, seven and Scott Russell, four. Hayes was the leading citizen of Fremont and was listed in the directory as a "capitalist". His retirement was brief, however, after one year he was persuaded to run for Congress. He was defeated, but he ran again, this time for Governor of Ohio in 1875. Hayes defeated Democratic Governor William Allen, but only by 5,500 votes out of nearly 600,000 cast. Although his victory was narrow, his success made him a strong presidential possibility in 1876. The Republican Party liked him for many reasons, his integrity being one, and Hayes himself thought he had a good chance and actively sought and received their nomination.
Hayes Democratic opponent in 1876 was Samuel J. Tilden, the Governor of New York. When the election returns were counted, Tilden had won the popular vote by about 247,448 out of a total cast of 8,320,592. However, both men claimed an electoral vote victory. There had been a controversy pending for some time in Congress regarding the manner that the Electoral votes of several states were counted and declared. The dispute was settled by the appointment of the Electoral Commission of 1877. On March 2, 1877, the result of the proceedings was the declaration of Rutherford B. Hayes by a vote of 185 electoral votes to Tilden's 184.
On March 5, 1877, Hayes was inaugurated. He realized that the presidency was weak and the Congress strong, and he did not please many legislators with the tone of his inauguration speech. "He serves his party best who serves his country best" was his much-quoted statement. In April the last of the federal troops were withdrawn from the South and the long period of reconstruction after the Civil War was finally ended.
In June 1877, Hayes issued an executive order directing federal workers not to take part in the management of political parties and campaigns and forbade the parties to demand contributions from federal employees. His administration uncovered a civil service scandal in the New York Custom House. Many of its employees (Chester a. Arthur, later president of the United States, and Alonzo B. Cornell, later Governor of New York, among them) ignored their jobs and worked instead at Republican Party politics. Hayes sponsored a bill in Congress for broad civil service reform and although the bill was defeated, it brought public awareness to the need for reform.
Hayes firmness and disregard of all matters but those of principle and conviction were displayed on many occasions. His purity of purpose, courage and consistency were rarely questioned, but his Democratic opposition was bitter and the support of Republicans was at best mediocre. He opposed the reelection of Presidents and affirmed his not being a candidate for reelection under any circumstances. He advocated an amendment to the constitution extending the president's term to six years and prohibiting reelections. At the end of his term, Hayes retired quietly to his home in Fremont, Ohio. His public career ended with his retirement and he led a tranquil life, appearing as a distinguished guest at many public celebrations and reunions.
Hayes died on January 17, 1893 at Spiegel Grove, his home in Fremont, Ohio, after suffering an apparent heart attack.

Presidents of the Continental Congress
United Colonies of The United States
Peyton Randolph
September 5, 1774 to October 22, 1774 
and May 20 to May 24, 1775

Henry Middleton
October 22, 1774 to October 26, 1774
John Hancock
October 27, 1775 to July 1, 1776
Presidents of the Continental Congress
United States of America
John Hancock
July 2, 1776 to  October 29, 1777
Henry Laurens
November 1, 1777 to December 9, 1778
John Jay
December 10, 1778 to September 28, 1779
Samuel Huntington
September 28, 1779 to February 28, 1781

Presidents of the United States
in Congress Assembled
Samuel Huntington
1st President of the United States 
in Congress Assembled
March 1, 1781 to July 6, 1781
Thomas McKean
2nd President of the United States 
in Congress Assembled
July 10, 1781 to November 5, 1781
John Hanson
3rd President of the United States 
in Congress Assembled
November 5, 1781 to November 4, 1782
Elias Boudinot
4th President of the United States 
in Congress Assembled
November 4, 1782 to November 3, 1783
Thomas Mifflin
5th President of the United States 
in Congress Assembled
November 3, 1783 to June 3, 1784
Richard Henry Lee
6th President of the United States 
in Congress Assembled
November 30, 1784 to November 23, 1785
John Hancock
7th President of the United States 
in Congress Assembled
November 23, 1785 to June 6, 1786
Nathaniel Gorham
8th President of the United States 
in Congress Assembled
June 1786 - November 13, 1786
Arthur St. Clair
9th President of the United States 
in Congress Assembled
February 2, 1787 to October 29, 1787
Cyrus Griffin
10th President of the United States 
in Congress Assembled
January 22, 1788 to March 4, 1789

Presidents of the United States
under the
United States Constitution
George Washington (F)

John Adams (F)

Thomas Jefferson (D-R)

James Madison (D-R)

James Monroe (D-R)

John Quincy Adams (D-R)
Andrew Jackson (D)

Martin Van Buren (D)

William H. Harrison (W)

John Tyler (W)

James K. Polk (D)

David Atchison (D)*

Zachary Taylor (W)
James Buchanan (D)

Abraham Lincoln (R)

Jefferson Davis (D)**

Andrew Johnson (R)

Ulysses S. Grant (R)
Rutherford B. Hayes (R)

James A. Garfield (R)

Chester Arthur (R)
Grover Cleveland (D)

Benjamin Harrison (R)

Grover Cleveland (D)

William McKinley (R)

Theodore Roosevelt (R)

William H. Taft (R)

Wilson  Woodrow (D)
Warren G. Harding (R)

Calvin Coolidge (R)

Herbert C. Hoover (R)

Franklin D. Roosevelt (D)

Harry S. Truman (D)

Dwight D. Eisenhower (R)

John F. Kennedy (D)

Lyndon B. Johnson (D)

Richard M. Nixon (R)

 Gerald R. Ford (R)

James Earl Carter, Jr. (D)

Ronald Wilson Reagan (R)

George H. W. Bush (R)

William Jefferson Clinton (D)

George W. Bush (R)


 
*President for One Day

**President Confederate States of America
Current Order of Presidential Succession


The Vice President
Speaker of the House
President pro tempore of the Senate
Secretary of State
Secretary of the Treasury
Secretary of Defense
Attorney General
Secretary of the Interior
Secretary of Agriculture
Secretary of Commerce
Secretary of Labor
Secretary of Health and Human Services
Secretary of Housing and Urban Development
Secretary of Transportation
Secretary of Energy
Secretary of Education
Secretary of Veterans Affairs
Research Links
Virtualology is not affiliated with the authors of these links nor responsible for its content.
Presidential Libraries
Rutherford B. Hayes Presidential Center

McKinley Memorial Library

Herbert Hoover Presidential Library and Museum - has research collections containing papers of Herbert Hoover and other 20th century leaders.

Franklin D. Roosevelt Library and Museum - Repository of the records of President Franklin Roosevelt and his wife Eleanor Roosevelt, managed by the National Archives and Records Administration.

Harry S. Truman Library & Museum

Dwight D. Eisenhower Presidential Library - preserves and makes available for research the papers, audiovisual materials, and memorabilia of Dwight and Mamie D. Eisenhower

John Fitzgerald Kennedy Library

Lyndon B. Johnson Library and Museum

Richard Nixon Library and Birthplace Foundation

Gerald R. Ford Library and Museum

Jimmy Carter Library

Ronald Reagan Presidential Library - 40th President: 1981-1989.

George Bush Presidential Library


The Congressional Evolution of the United States Henry Middleton
Unauthorized Site: This site and its contents are not affiliated, connected, associated with or authorized by the individual, family, friends, or trademarked entities utilizing any part or the subject's entire name. Any official or affiliated sites that are related to this subject will be hyper linked below upon submission and Evisum, Inc. review.
Copyright© 2000 by Evisum Inc.TM. All rights reserved.
Evisum Inc.TM Privacy Policy