Franklin D. Roosevelt
42nd President of the United States
32nd under the 1787 Constitution

For Information on the Ten Presidents before Washington -- Click Here
1939 Personal FDR letter on White House Stationary predicting World War II. Letter Courtesy of Skibo Center.
FRANKLIN DELANO ROOSEVELT was born on January 30, 1882 on his family's estate Hyde Park, in Dutchess County, New York. His father, James was descended from Nicholas Roosevelt, whose father had emigrated from Holland in the 1640's. One of Nicholas' two sons, Johannes, was an ancestor of President Theodore Roosevelt. The other son, Jacobus, was James' great-great-grandfather. James had graduated from Union College and Harvard Law School, married, had a son, and took over his family's extensive holdings in coal and transportation. In 1880, four years after the death of his first wife, James met and married Sara Delano who was a sixth cousin and at 26 years, she was half her husband's age. She brought to the marriage a fortune that was a great deal larger than that of James. The Delano family had prospered in trading with China and her father was one of James' business associates.

Young Roosevelt spent his early years in a pleasant and sociable home with loving parents and congenial rather aristocratic companions at Hyde Park. His half-brother was an adult when he was born and his childhood was secure and tranquil. He was often taken on summers in Europe and spent much time at his father's vacation home on Campobello Island in New Brunswick, Canada. Young Roosevelt developed a love for natural history and sailing and was an expert swimmer. His mother supervised his schooling with governesses and private tutors until he was 14 and he was a voracious reader. In 1896, his parents sent him to Groton School in Massachusetts, where most students were of the privileged classes. His education there instilled him with a belief that children of the upper classes had a duty to society.
Roosevelt entered Harvard in 1899, where he was an above average student and devoted a great deal of his time to extracurricular activities. He completed his course work for his B.A. in only three years and returned for the fourth year as editor of the Crimson, the college newspaper. He joined a young Republican club in 1900 in enthusiasm for Theodore Roosevelt, the vice-presidential candidate and his distant cousin. While at Harvard, he fell in love with Anna Eleanor Roosevelt, his fifth cousin once removed. She had had a difficult childhood, being orphaned at the age of ten. She lived with her maternal grandmother and felt rejected and ill at ease in society, thinking herself ugly. When Roosevelt, a handsome Harvard man two years her senior, paid her attention, she was flattered. In 1904, Roosevelt cast his first vote in a presidential election for his cousin, who was running for reelection after having become president with the assassination of President McKinley in 1901.
Roosevelt entered Columbia University Law School in New York City in 1904. He passed the New York bar examination and began clerking for a Wall Street law firm, Carter, Ledyard and Milburn, foregoing his degree from Columbia. On March 17, 1905, President Roosevelt gave his niece Anna Eleanor away in marriage to Franklin D. Roosevelt. The marriage was successful on the surface, within the next eleven years they produced six children (one of which died in infancy): Anna Eleanor Roosevelt (1906 – 1975); James Roosevelt (1907 – 1991); Elliott Roosevelt (1910 – 1990); Franklin Delano Roosevelt, Jr. (1914 – 1988) and John Aspinwall Roosevelt (1916 – 1981).
However, Sara Roosevelt's possessive and domineering attitude toward her son caused much strife early in their marriage. In addition, Eleanor's later discovery of Franklin's affair with her social secretary, Lucy Mercer, staggered her. Despite these problems, Eleanor remained a supportive spouse.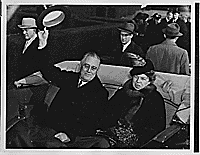 Photo Courtesy of the National Archives
Click photo to enlarge.

Roosevelt found work at the law firm tedious, much of the firm's practice was in corporate law and he felt irritated by the routine. In 1910, at the age of 28, he was approached by the Democratic leaders to run for the New York State Senate. They felt he would succeed because of his name, local prominence and his wealth. Anxious to escape the law practice, he accepted, and campaigned hard, stressing his deep personal interest in conservation and his strong support of honest and efficient government. He showed skill at making himself agreeable to voters, he was open and adaptable and he listened to the advice he was given by political veterans. He won impressively and made an immediate impact in the state legislature. He soon became a dedicated social and economic reformer and was reelected in 1912, in spite of a case of typhoid fever that kept him from campaigning. He entered national politics by taking part in Woodrow Wilson's campaign for the Democratic nomination for president. After Wilson was elected, he appointed Roosevelt Assistant Secretary of the United States Navy. In 1913, he resigned his state senate seat and moved to Washington to take the position that his cousin, Theodore, had once held. His seven years of service gave him administrative experience and he made many excellent contacts in Washington and in the Democratic party. He remained in his post until August 1920, when he resigned to campaign as the Democratic candidate for vice president. When Harding and Coolidge decisively beat the Democrats in November, he returned to private life. He had campaigned vigorously and made friends among Democratic leaders across the country. He was a widely recognized public figure, and being under the age of 40, he felt he could afford to wait.
He formed a law firm in New York City and became vice president of Fidelity and Deposit Company of Maryland, a surety bonding company. At Fidelity, he was in charge of the New York office of one of the most important companies handling bonds for public officials. His wide circle of contacts continued to expand. However, in August 1921, after an unfortunate delay, he was diagnosed with poliomyelitis. Completely unable to walk and in great pain, Roosevelt seemed to have reached the end of his political career. His domineering mother wanted him to return to Hyde Park for a peaceful and quite life. Under the care of his wife and his friend and campaign manager, Louis McHenry Howe, Roosevelt fought back. Although never able to walk again without leg braces and canes, he became president of the American Construction Council in 1924, while Howe remained close, planning for his return to public life.
Roosevelt made an inspiring nominating speech for Alfred E. Smith at the 1924 Democratic National Convention in Madison Square Garden. In 1928 at Smith's urging and against the advice of Eleanor and Howe, Roosevelt agreed to run for governor of New York. Roosevelt won by a narrow margin in an otherwise Republican election year. During his two terms, he battled a Republican legislature, naming skilled people to important positions. He was a leading contender for the Democratic presidential nomination in 1932 and he took the nomination on the fourth ballot. In November, Roosevelt captured 22,821,857 votes to incumbent President Hoover's 15,761,841 and 472 Electoral College votes to 59.
Inaugurated at the height of the Depression, Roosevelt inspired Americans. He launched the "New Deal" instituting social security and unemployment benefits, giving hope to the have-nots and restoring confidence in the government. His public works projects included the Tennessee Valley Authority, the Civilian Conservation Corps, and the Works Progress Administration. Congress, following his lead, sponsored reform measures such as The Federal Deposit Insurance Corporation, which insured deposits and The Securities and Exchange Commission (SEC), which began regulation of the stock exchanges. His mobility hampered by polio, he reached millions by radio in his "fireside chats" while Eleanor tirelessly toured the country.
He was reelected in 1936, an unprecedented third term in 1940 and once again in 1944. In 1940 he responded to Hitler's aggression in Europe by sending the British 50 destroyers in exchange for military bases, followed by massive "Lend-Lease" aid. On December 7, 1941, Japan attacked Pearl Harbor and America entered World War II. With Stalin and Churchill, Roosevelt laid the groundwork for the post-war world, and the creation of the United Nations.
Transmittal letter of the new Selective Service Law letter sent to the Governor of Nevada; Page 1 and Page 2. Letter Courtesy of Skibo Center.
During Roosevelt's campaign for his fourth term in 1944, he was pale, thin and old. His doctors knew that he was suffering from heart disease, hypertension and cardiac failure. His advisers persuaded him to accept the U.S. Senator from Missouri, Harry Truman for the vice presidency, feeling him suited for the presidency. His campaign and election were a strain on Roosevelt and in the early spring of 1945, he went to Warm Springs, Georgia in an effort to recapture his flagging health. He died there on April 12, 1945 of a massive cerebral hemorrhage. Harry Truman took the oath of office to become president that same day.
Presidents of the Continental Congress
United Colonies of The United States
Peyton Randolph
September 5, 1774 to October 22, 1774
and May 20 to May 24, 1775

Henry Middleton
October 22, 1774 to October 26, 1774
John Hancock
October 27, 1775 to July 1, 1776
Presidents of the Continental Congress
United States of America
John Hancock
July 2, 1776 to October 29, 1777
Henry Laurens
November 1, 1777 to December 9, 1778
John Jay
December 10, 1778 to September 28, 1779
Samuel Huntington
September 28, 1779 to February 28, 1781

Presidents of the United States
in Congress Assembled
Samuel Huntington
1st President of the United States
in Congress Assembled
March 1, 1781 to July 6, 1781
Thomas McKean
2nd President of the United States
in Congress Assembled
July 10, 1781 to November 5, 1781
John Hanson
3rd President of the United States
in Congress Assembled
November 5, 1781 to November 4, 1782
Elias Boudinot
4th President of the United States
in Congress Assembled
November 4, 1782 to November 3, 1783
Thomas Mifflin
5th President of the United States
in Congress Assembled
November 3, 1783 to June 3, 1784
Richard Henry Lee
6th President of the United States
in Congress Assembled
November 30, 1784 to November 23, 1785
John Hancock
7th President of the United States
in Congress Assembled
November 23, 1785 to June 6, 1786
Nathaniel Gorham
8th President of the United States
in Congress Assembled
June 1786 - November 13, 1786
Arthur St. Clair
9th President of the United States
in Congress Assembled
February 2, 1787 to October 29, 1787
Cyrus Griffin
10th President of the United States
in Congress Assembled
January 22, 1788 to March 4, 1789

Presidents of the United States
under the
United States Constitution
George Washington (F)

John Adams (F)

Thomas Jefferson (D-R)

James Madison (D-R)

James Monroe (D-R)

John Quincy Adams (D-R)
Andrew Jackson (D)

Martin Van Buren (D)

William H. Harrison (W)

John Tyler (W)

James K. Polk (D)

David Atchison (D)*

Zachary Taylor (W)
James Buchanan (D)

Abraham Lincoln (R)

Jefferson Davis (D)**

Andrew Johnson (R)

Ulysses S. Grant (R)
Rutherford B. Hayes (R)

James A. Garfield (R)

Chester Arthur (R)
Grover Cleveland (D)

Benjamin Harrison (R)

Grover Cleveland (D)

William McKinley (R)

Theodore Roosevelt (R)

William H. Taft (R)

Wilson Woodrow (D)
Warren G. Harding (R)

Calvin Coolidge (R)

Herbert C. Hoover (R)

Franklin D. Roosevelt (D)

Harry S. Truman (D)

Dwight D. Eisenhower (R)

John F. Kennedy (D)

Lyndon B. Johnson (D)

Richard M. Nixon (R)

Gerald R. Ford (R)

James Earl Carter, Jr. (D)

Ronald Wilson Reagan (R)

George H. W. Bush (R)

William Jefferson Clinton (D)

George W. Bush (R)



*President for One Day

**President Confederate States of America
Current Order of Presidential Succession



The Vice President
Speaker of the House
President pro tempore of the Senate
Secretary of State
Secretary of the Treasury
Secretary of Defense
Attorney General
Secretary of the Interior
Secretary of Agriculture
Secretary of Commerce
Secretary of Labor
Secretary of Health and Human Services
Secretary of Housing and Urban Development
Secretary of Transportation
Secretary of Energy
Secretary of Education
Secretary of Veterans Affairs
Research Links
Virtualology is not affiliated with the authors of these links nor responsible for its content.
Presidential Libraries
GEORGE BUSH LIBRARY
http://bushlibrary.tamu.edu
1000 George Bush Drive West
College Station, TX 77845
PHONE: 979-260-9554
FAX: 979-260-9557
EMAIL: bush.library@nara.gov

Museum Hours:
9:30 am - 5 pm, Monday - Saturday
12 pm - 5 pm, Sunday
Museum Admission: $5.00
(students 17+ $4, sr. citizens 62+ $3.50, children under 16 free)


JIMMY CARTER LIBRARY
http://www.jimmycarterlibrary.org/
441 Freedom Parkway
Atlanta, GA 30307-1498
PHONE: 404-331-3942
FAX: 404-730-2215
EMAIL: carter.library@nara.gov

Museum Hours:
9 am - 4:45 pm, Monday - Saturday
12pm - 4:45 pm, Sunday
Museum Admission: $5.00
(sr. citizens 55+ $4.00, children under 16 free)
WILLIAM J. CLINTON PRESIDENTIAL MATERIALS PROJECT
http://www.clinton.nara.gov
1000 LaHarpe Boulevard
Little Rock, AR 72201
PHONE: 501-244-9756
FAX: 501-244-9764
EMAIL: clinton.library@nara.gov
While the future Clinton Library will be open for public programs, the Clinton Project does not provide public tours or exhibits. Research sessions are available by appointment only.
Notice:Memorandum of Understanding on the Clinton-Gore Email Records available.

DWIGHT D. EISENHOWER LIBRARY
http://www.eisenhower.utexas.edu
200 SE 4th Street
Abilene, KS 67410-2900
PHONE: 785-263-4751
FAX: 785-263-4218
EMAIL: eisenhower.library@nara.gov
Museum Hours: 9 am - 5 pm, every day
(8 am - 6 pm, Memorial Day - mid August)
Museum Admission: $3.50
(sr. citizens 62+ $3.00, children under 16 free)
GERALD R. FORD LIBRARY
http://www.ford.utexas.edu
1000 Beal Avenue
Ann Arbor, MI 48109-2114
PHONE: 734-741-2218
FAX: 734-741-2341
EMAIL: ford.library@nara.gov
GERALD R. FORD MUSEUM
http://www.ford.utexas.edu
303 Pearl Street, NW
Grand Rapids, MI 49504-5353
PHONE: 616-451-9263
FAX: 616-451-9570
EMAIL: ford.museum@nara.gov
Museum Hours: 9 am - 5 pm, every day
Museum Admission: $4.00
(sr. citizens 62+ $3.00, children under 16 free)


Rutherford B. Hayes LIBRARY
http://www.rbhayes.org/
The Rutherford B. Hayes Presidential Center
Spiegel Grove
Fremont, OH 43420
1-800-998-7737
Affiliated with the Ohio Historical Society
Direct general library requests to: hayeslib@rbhayes.org
Direct manuscript research requests to: ncard@rbhayes.org
Direct non-research questions to admin@rbhayes.org
Send comments to: ggonzalez@rbhayes.org
HERBERT HOOVER LIBRARY
http://hoover.nara.gov
210 Parkside Drive
P.O. Box 488
West Branch, IA 52358-0488
PHONE: 319-643-5301
FAX: 319-643-5825
EMAIL: hoover.library@nara.gov
Museum Hours: 9 am - 5 pm, every day
(open until 8 pm, Wednesdays in July and August)
Museum Admission: $2.00
(sr. citizens 62+ $1.00, children under 16 free)



LYNDON B. JOHNSON LIBRARY
http://www.lbjlib.utexas.edu/
2313 Red River Street
Austin, TX 78705-5702
PHONE: 512-916-5137
FAX: 512-916-5171
EMAIL: johnson.library@nara.gov
Museum Hours: 9 am - 5 pm, every day
Museum Admission: Free


JOHN F. KENNEDY LIBRARY
http://www.jfklibrary.org
Columbia Point
Boston, MA 02125-3398
PHONE: 617-929-4500
FAX: 617-929-4538
EMAIL: kennedy.library@nara.gov
Museum Hours: 9 am - 5 pm, every day
Museum Admission: $8.00
(students/sr. citizens 62+ $6.00, youth 13-17 $4.00, children under 12 free)

MCKINLEY MEMORIAL LIBRARY
http://www.mckinley.lib.oh.us/
46 N. Main St.
Niles, Ohio 44446
Phone: 330-652-1704
Fax: 330-652-5788
e-mail: mckinley@oplin.lib.oh.us
Library Hours: Mon-Thurs 9 a.m. to 8 p.m.
Fri & Sat 9 a.m. to 5:30 p.m.
Sun (Sept-May) 1 p.m. to 5 p.m.
NIXON PRESIDENTIAL MATERIALS STAFF
http://www.nara.gov/nixon/
National Archives at College Park
8601 Adelphi Road
College Park, MD 20740-6001
PHONE: 301-713-6950
FAX: 301-713-6916
EMAIL: nixon@nara.gov
Notice:Copies of Watergate Trial Tapes to go on sale
RONALD REAGAN LIBRARY
http://www.reagan.utexas.edu
40 Presidential Drive
Simi Valley, CA 93065-0600
PHONE: 800-410-8354
FAX: 805-522-9621
EMAIL: reagan.library@nara.gov
Museum Hours: 10 am - 5 pm, every day
Museum Admission: $5.00
(sr. citizens 62+ $3.00, children under 15 free)

Access to Presidential Records
FRANKLIN D. ROOSEVELT LIBRARY
http://www.fdrlibrary.marist.edu
4079 Albany Post Road
Hyde Park, NY 12538-1999
PHONE: 845-229-8114
FAX: 845-229-0872
EMAIL: roosevelt.library@nara.gov
Museum Hours: 9 am - 5 pm, every day
(open until 6 pm, April - October)
Museum Admission: $10.00
(includes admission to Roosevelt Home, children under 16 free)
HARRY S. TRUMAN LIBRARY
http://www.trumanlibrary.org
500 West U.S. Highway 24
Independence, MO 64050-1798
PHONE: 816-833-1400
FAX: 816-833-4368
EMAIL: truman.library@nara.gov