The Seven Flags of the New Orleans Tri-Centennial
John Dunlap
1747 - 1812
Printer and Patriot
DUNLAP, John, printer, born in Strabane, Ireland, in 1747; died in Philadelphia, Pennsylvania, 27 November, 1812. While a boy he went to live with an uncle, William Dunlap, a printer and publisher in Philadelphia, at the age of eighteen entered the business, and in November, 177I. began the publication of the "Pennsylvania Packet." This paper was changed into a daily in 1784, the first in the United States, and afterward became the "North American and United States Gazette."
Mr. Dunlap was appointed printer to congress, and first printed the "Declaration of Independence." He was an officer in the first troop of Philadelphia cavalry, which became the body-guard of Washington at Trenton and Princeton. In 1780 he gave £4,000 to supply provisions to the Revolutionary army.
-- Edited A.C. American Biography Copyright© 2001 by VirtualologyTM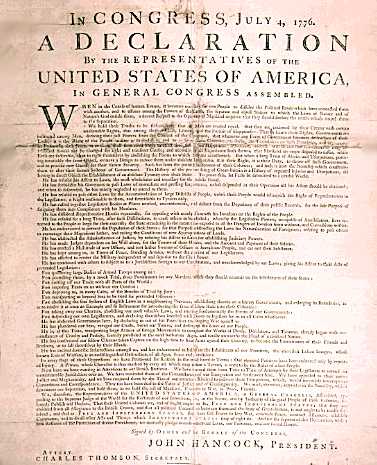 Dunlap Broadside - July 4, 1776

It was July 1776. Fighting between the American colonists and the British forces had been going on for nearly a year. The Continental Congress had been meeting since June, wrestling with the question of independence. Finally, late in the afternoon on July 4th, 1776 twelve of the thirteen colonies reached agreement to declare the new states as a free and independent nation. New York was the lone holdout. That evening John Hancock ordered Philadelphia printer John Dunlap to print broadside copies of the agreed-upon declaration that was signed by him as President and Charles Thomson as Secretary. John Dunlap is thought to have printed 200 Broadsides that July 4th evening which were distributed to the members of Congress.
Note: Today their are only 25 of these broadsides that are known to exist. The original Declaration of Independence that was signed by John Hancock and Charles Thomson on July 4, 1776 is lost. A Dunlap broadside - unsigned, as it is known, recently sold for $8.14 million, the highest price ever achieved for an object sold at an Internet auction. This copy was discovered in 1989 by a man browsing in a flea market who purchased a painting for four dollars because he was interested in the frame. Concealed in the backing of the frame was an Original Dunlap Broadside of the Declaration of Independence.
The other copies of the Dunlap broadside known to exist are dispersed among American and British institutions and private owners. The following are the current locations of the copies.
National Archives, Washington, DC
Library of Congress, Washington, DC (two copies)
Maryland Historical Society, Baltimore
University of Virginia, Charlottesville, VA
Independence National Historic Park, Philadelphia
American Philosophical Society, Philadelphia
Historical Society of Pennsylvania, Philadelphia
Princeton University, Princeton, NJ
New-York Historical Society
New York Public Library
Pierpont Morgan Library, New York
Massachusetts Historical Society, Boston
Harvard University, Cambridge, MA
Chapin Library, Williams College, Williamstown, MA
Yale University, New Haven, CT
American Independence Museum, Exeter, NH
Maine Historical Society, Portland
Indiana University, Bloomington, IN
Chicago Historical Society
City of Dallas, City Hall
Visual Equities, Inc., Atlanta, GA
Washington, DC (private collector)
Public Record Office, United Kingdom (two copies)
Research Links
Virtualology is not affiliated with the authors of these links nor responsible for each Link's content.
John Dunlap
John Dunlap (1747-1812). Image: caption follows [Constitution
of the United States]. In The Pennsylvania ...
I212: John DUNLAP (29 Jan 1737/38 - )
... __ | |--John DUNLAP | | __ |__| |__ INDEX HTML created by GED2HTML v3.1a-UNREGISTERED
(8/20/97) on Mon Dec 29 19:57:57 1997. David DUNNING. BIRTH: 29 Sep 1747 ...
dunlap.htm
... including title deeds to Dunlap family property in Strabane, 1747-1803, the will
of John Dunlap of Strabane, 1780; emigrant letters from John Dunlap and others ...
Printing News Online -- 1.24.00 -- Sotheby's To Auction ...
... Next to Benjamin Franklin, John Dunlap (1747-1812) deserves credit as the bravest
printer in American history. It was risky work indeed to publicly affiliate ...
[PDF] www.ahschool.com/Plantation/Teacher%20Center%20Folder/Departments/USSocial/milam/ThomPain.pdf
... of Independence, which had just been adopted by Congress and printed by John Dunlap
(1747-1812). Hancock sent this copy of the resolutions together with the ...
Dunlap & Curtis Family History
Family History. John Dunlap b:November 7,1789 Brooke County WV, d:June 30,1830 Pike
Twp. Coshocton Co. OH father - William Dunlap Sr. b:January 29,1747 Ireland ...
History:A Multitude of Amendments, Endnotes
... the State House. John Dunlap, born in Ireland in 1747, served as a apprentice in
the Pennsylvania print shop of his uncle, William Dunlap. William Dunlap, a ...
Genealogy's Most Wanted Unknown's
... UNKNOWN, Sarah b 1751 m John Dunlap b 1747. m & lived PA? child:
John Dunlap b 1784 m Catherine Tipton. jen718@juno.com 0998. ...

Lancaster County Surname Queries - December 1997
... DUNLAP, searching for info on John Dunlap b.1747 Ireland d.1812 PA.He lived in
lancaster during the time when the british invaded Philadelphia and ran a ...

The Congressional Evolution of the United States Henry Middleton
Unauthorized Site: This site and its contents are not affiliated, connected, associated with or authorized by the individual, family, friends, or trademarked entities utilizing any part or the subject's entire name. Any official or affiliated sites that are related to this subject will be hyper linked below upon submission and Evisum, Inc. review.
Research Links
Constitution of the United States of America
Copyright© 2000 by Evisum Inc.TM. All rights reserved.
Evisum Inc.TM Privacy Policy