Appleton's Cyclopedia of American Biography, edited by James Grant Wilson, John Fiske and Stanley L. Klos. Six volumes, New York: D. Appleton and Company, 1887-1889 and 1999. Virtualology.com warns that these 19th Century biographies contain errors and bias. We rely on volunteers to edit the historic biographies on a continual basis. If you would like to edit this biography please submit a rewritten biography in text form . If acceptable, the new biography will be published above the 19th Century Appleton's Cyclopedia Biography citing the volunteer editor
Virtual American Biographies
Over 30,000 personalities with thousands of 19th Century illustrations, signatures, and exceptional life stories. Virtualology.com welcomes editing and additions to the biographies. To become this site's editor or a contributor Click Here or e-mail Virtualology here.
A
B
C
D
E
F
G
H
I
J
K
L
M
N
O
P
Q
R
S
T
U
V
W
X
Y
Z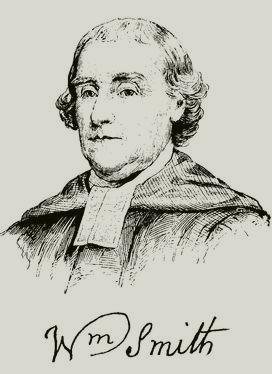 Click on an image to view full-sized
William Smith
SMITH, William, clergyman, born near Aberdeen, Scotland, in 1727; died in Philadelphia, Pennsylvania, 14 May, 1803. He entered the college in his native city, and was graduated in 1747. After spending several years in teaching he embarked for this country, and in 1752 was invited to take charge of the seminary in Philadelphia, which subsequently became the University of Pennsylvania. He went to England in 1753, received orders in the Church of England, and on his return the next year entered upon his educational work. England in 1759, received the degree of D.D. from the University of Oxford, and was honored subsequently with the same degree from Aberdeen college, and from Trinity college, Dublin. In addition to his work as an instructor, Dr. Smith engaged actively in missionary duty as one of the Propagation society's workers in Pennsylvania from 1766 till the opening of the Revolution. He favored the American view of the differences with England, and delivered a sermon in June, 1775, by request of the officers of Colonel Cadwallader's battalion, which produced a sensation both here and in the mother country. Subsequently he lost popularity in this respect, and was looked on as giving doubtful support to patriotic measures, the charge of disloyalty being partially owing to his marriage to Rebecca, daughter of Governor William Moore. The charter of the College of Philadelphia was taken away by the legislature of Pennsylvania in 1779, whereupon Dr. Smith removed to Chestertown, Maryland, and became rector of Chester parish. He established a classical seminary, which was chartered as a college by the general assembly of Maryland in June, 1782. It was named Washington college, and Dr. Smith became its president. In May, 1783, a convention of the clergy of Maryland was held for organization of the American Protestant Episcopal church in that state, and Dr. Smith was chosen president. At a convention in June of the same year he was elected bishop of Maryland, but, as the election was not approved by many, and the general convention of 1786 refused to recommend him for consecration, he was not elevated to the episcopate. He was several times clerical delegate to the general convention, and was uniformly chosen president of that body. He was appointed in 1785 on the committee to propose alterations in the liturgy, which resulted in what is known in ecclesiastical literature as the "Proposed Book." In the preparation of this he had the chief part, and the book was published in 1786, but the alterations were never sanctioned by any action of the church. In 1789 the charter was restored by the legislature to the college in Philadelphia, and Dr. Smith, on being invited to return, resumed his office as provost. He spent the latter years of his life at his residence at Falls of Schuylkill, near Philadelphia, and engaged largely in secular pursuits, especially land speculations. He was much given to scientific research, was a man of more than ordinary ability and broad culture, and was regarded as an eloquent and effective preacher. Besides separate sermons and various addresses and orations, he published a collection of " Discourses on Public Occasions" (London, 1759; 2d ed., enlarged, 1763); "Brief Account of the Province of Pennsylvania" (London, 2d ed., 1755; New York, 1865); a series of eight essays, entitled "The Hermit," in the "American Magazine," at Philadelphia (1757-'8); an account of "Bouquet's Expedition against the Western Indians" (1765 ; new ed., with preface by Francis Parkman, Cincinnati, 1885); and an edition of the poems of Nathaniel Evans, with a memoir (1772). Shortly before his death he made a collection of his printed sermons, addresses, etc., for publication. Bishop White furnished a preface, and added other sermons from manuscripts of Dr. Smith's, which were published in two vols. (Philadelphia, 1803). See "Life and Correspondence of Reverend William Smith," by his great-grandson, Horace Wemyss Smith (2 vols., 1879). Dr. Smith's vignette is from the portrait painted in 1800 by Gilbert Stuart. His daughter, Mrs. Blodget, was also painted by the same artist.--His son, William Moore, lawyer, born in Philadelphia, Pennsylvania, 1 June, 1759 ; died at Falls of Schuylkill, Pennsylvania, 12 March, 1821, was graduated at the College of Philadelphia in 1775, studied law, and attained to a high rank in his profession. He was appointed an agent for the settlement of claims that were provided for in the 6th article of John Jay's treaty, and visited England in 1803 to close his commission, after which he returned to Pennsylvania and devoted the remainder of his life to scholarly pursuits. His publications in-chide several political pamphlets and essays, and a volume of poems (Philadelphia, Pennsylvania, 1784; London, 1786).--William Moore's son, William Rudolph, politician, born in La Trappe, Montgomery County, Pennsylvania, 31 August, 1787; died in Quincy, Illinois, 22 August, 1868, was carefully educated by his grandfather, Reverend William Smith, until 1803, when he accompanied his father as private secretary to England, studied law in the Middle Temple, and on his return was admitted to the bar of Philadelphia in 1808. He removed to Huntingdon county, Pennsylvania, the following year, became deputy attorney-general for Cambria county in 1811, and during the second war with Great Britain, having previously been major-general of state militia, was appointed colonel of the 42d Pennsylvania reserves. He commanded this regiment in support of the movement on Canada under General Winfield Scott, and participated in the battle of Lundy's Lane. He subsequently served many terms in both branches of the legislature, and in 1837 was appointed, with Governor Henry Dodge, United States commissioner to treat with the Chippewa Indians for the purchase of their pineries, a large part of the territory that is now embraced in the state of Minnesota. After successfully negotiating that enterprise he settled at Mineral Point, Wisconsin, where he passed the remainder of his life. He was adjutant-general of the territory of Wisconsin in 1839-'52, and district attorney of Iowa county for many years, presided over the first Democratic convention in Wisconsin in 1840, and was clerk of the territorial council in 1846. He was a member of the Constitutional convention of that year, took all active part in its proceedings, mid was chairman of the committee on militia. Mr. Smith was chief clerk of the state senate in 1849-'50, and attorney-general in 1856-'8. For many years he was president of the Wisconsin historical society. He published " Observations on Wisconsin Territory" (Philadelphia, 1838); "Discourse before the State Historical Society " (Madison, Wisconsin, 1850) ; and "History of Wisconsin," compiled by direction of the legislature (1st and 3d vols., 1854; 2d and 4th vols., 1866).--Another son of William Moore, Richard Penn, author, born in Philadelphia, Pennsylvania, 13 March, 1799; died in Falls of Schuylkill, Pennsylvania, 12 August, 1854, evinced a fondness for literary pursuits at an early age, and contributed to the " Union " a series of essays entitled "The Plagiary." tie studied law under William Rawle, the elder, was admitted to the bar in 1821, succeeded William Duane as editor and proprietor of the "Aurora " in 1822, and published it for five years, during which it was one of the chief journals of the country, tie resumed practice in 1827, but subsequently devoted much time to literary pursuits, and was the author of several poems and many plays, fifteen of which were produced on the Philadelphia stage, and in London, England, in most instances with decided success. Of these the best known are the tragedy of "Caius Marius," written for Edwin Forrest and acted by him in 1831, and the farces and comedies" Quite Correct," "' The Disowned," "The Deformed," "A Wife at a Venture,"" The Sentinels,"" William Penn," "The Water-Witch," " Is She a Brigand ? .... My Uncle's Wedding," " The Daughter," " The Actress of Padua," and a five-act drama entitled the "Venetians." He possessed brilliant social qualities and a trenchant wit. Besides his plays he wrote "The Forsaken," a novel (2 vols., Philadelphia, 1831) ; " Life of David Crockett" (1836) ; "Life of Martin Van Butch" (18'36); and many tales. A selection of his miscellanies, with his memoir by Morton McMichael, was collected and published by his son, Horace Wemyss Smith (1856), and his "Complete Works, embodied in his Life and Correspondence" was also published by the latter author (4 vols., 1888).--His son, Horace Wemyss, author, born in Philadelphia county, Pennsylvania, 15 August, 1825, was educated in the Philadelphia high-school, and studied dentistry, but never practised, being early inclined to literary pursuits. He entered the National army in 1861, but soon returned to journalism, in which ha had previously engaged, and has since devoted himself to literature. He collected the " Miscellanies" of his father that are referred to above, and is the author of " Nuts for Future Historians to Crack" (Philadelphia, 1856) ; " Yorktown Orderly-Book" (1865); "Life of Reverend William Smith" (2 vols., 1880) ; and "History of the German-town Academy" (1882).--Another son of Richard Penn, Richard Penn, soldier, born in Philadelphia, Pennsylvania, 9 May, 1837; died in West Brighton, Staten island, New York, 27 November, 1887, was educated at West Chester college, Pennsylvania Immediately after leaving college he settled in Kansas, and successfully engaged in business there, but returned to Philadelphia in 1860, became lieutenant in the 71st Pennsylvania volunteers, and rose to the rank of colonel. He was engaged in the battles of Yorktown, Fair Oaks, White Oak Swamp, and Malvern Hill, covered the retreat at second Bull Run, was wounded at Antietam, and at Gettysburg did good service by bringing guns into use against Gem George E. Pickett's charge. He was mustered out of service in 1864, and engaged in business in New York city. On 3 July, 1887, he delivered an address at Gettysburg on the unveiling of the monument erected in honor of Lieutenant Alonzo H. Cushing and the 4th United States artillery by the 71st Pennsylvania volunteers.--Another son of William, Charles, lawyer, born in Philadelphia, Pennsylvania, 4 March, 1765; died there, 18 March, 1836, was graduated at Washington college, Maryland, in 1783, studied law with his brother, William Moore Smith, and was admitted to the Philadelphia bar in 1786. He practised in Sunbury, Pennsylvania, for several years, was a delegate to the State constitutional convention in 1792, settled in Lancaster, Pennsylvania, and attained eminence as a land lawyer. He became president judge in 1819 of the judicial district composed of the counties of Cumberland, Franklin, and Adams, and in 1820 of the newly formed district court of Lancaster city and county. His later life was spent in Philadelphia. He was a member of the American philosophical society, and in 1819 received the degree of LL.D. from the University of Pennsylvania. He was appointed by the legislature in 1810 to revise the laws of the state, and to frame a compilation of them, which he published with a " Treatise on the Land Laws of Pennsylvania" (5 vols., Philadelphia, 1810-'12).--William's half-brother, Thomas, member of the Continental congress, born near Aberdeen, Scotland, in 1745 ; died in Philadelphia, Pennsylvania, 16 June, 1809, emigrated to this country at an early age, became deputy surveyor of an extensive frontier district of Pennsylvania, and, establishing himself in Bedford county, became prothonotary clerk, clerk of the sessions, and recorder. He early joined the patriot cause, was a colonel of militia during the Revolution, and a member of the State constitutional convention in 1776, served several terms in the legislature, and was in congress in 1780-'2. He became judge of the courts of the counties of Cumberland, Huntingdon, Bedford, and Franklin, in 1791, and from 1794 until his death was a judge of the supreme court of Pennsylvania. He was a devoted adherent of the Federal party.--Thomas's son, George Washington, author, born in Philadelphia, Pennsylvania, 4 August, 1800; died there, 22 April, 1876, was graduated at Princeton in 1818, studied law under Horace Binney, and was admitted to the bar of Philadelphia in 1823, but did not practise, and spent several years in Europe and Asia exploring the antiquities of those countries. He was a founder of the Pennsylvania historical society, for many years one of its councillors, and at his death senior vice-president. Mr. Smith possessed a large estate, of which he gave liberally to benevolent objects. He was a member of the vestry of Christ church, Philadelphia, for more than thirty years, and annually deposited $5,000 in its offertory for the benefit of the Episcopal hospital, tie was a member of the American philosophical society in 1840-'76. He published "Facts and Arguments in Favor of adopting Railroads in Preference to Canals" (Philadelphia, 1824); "Defence of the Pennsylvania System in Favor of Solitary Confinement of Prisoners" (1829); and several pamphlets on similar subjects, and edited Nicholas Wood's treatise on "Railroads" (1832).--William's nephew, William, clergyman, born in Aberdeen, Scotland, in 1754; died in New York city, 6 April, 1821, was educated at one of the Scotch universities (probably Aberdeen). He studied for the ministry, and was admitted to orders in the Church of England about 1780. He came to the United States in 1785, was minister of Stepney parish, Maryland, for two years, then became rector of St. Paul's church, Narragansett, Rhode Island, for a year and a half, after which he accepted the rectorship of Trinity church, Newport, in 1790. This post he held for seven years. He aided in organizing the Episcopal church in Rhode Island, and delivered the sermon at its first convention in November, 1790. He next was rector of St. Paul's church, Norwalk, Connecticut, in 1797-1800, then removed to New York city, opened a grammar-school, and acquired high reputation as a teacher. In 1802 he accepted the principalship of the Episcopal academy, Cheshire, Connecticut, and gave instruction to candidates for orders in connection with his other duties. In 1806 he returned to New York city, where he resumed teaching the classics, mostly to private scholars. He performed clerical duty to some extent, but was never again settled in any parish. Dr. Smith was a man of superior ability and excellent scholarship and culture, possessing ready command of language, but he lacked good judgment and skill in managing youth and guiding affairs. His ability was clearly displayed in the preparation of the "Office of Induction of Ministers into Parishes." He was requested by the convocation in Connecticut to prepare such an office, which was approved and set forth with slight changes by the general convention of 1804. It was issued again, with some alterations, in 1808 ; the title was changed to "An Office of Institution of Ministers into Parishes or Churches," and its use was made permissible. Dr. Smith was the author of "The Reasonableness of setting forth the Praises of God, according to the Use of the Primitive Church, with Historical Views of Metre Psalmody" (New York, 1814); " Essays on the Christian Ministry" (a controversial work in defence of episcopacy) ; "Chants for Public Worship"; and several occasional sermons and articles in magazines.
Edited Appletons Encyclopedia, Copyright © 2001 VirtualologyTM

Unauthorized Site: This site and its contents are not affiliated, connected, associated with or authorized by the individual, family, friends, or trademarked entities utilizing any part or the subject's entire name. Any official or affiliated sites that are related to this subject will be hyper linked below upon submission and Evisum, Inc. review.
Copyright© 2000 by Evisum Inc.TM. All rights reserved.
Evisum Inc.TM Privacy Policy